News from around our schools
barnby north cove
Lights, Camera, Action
In order to deliver interactive and engaging lessons during lockdown we have transformed our classroom into a recording studio. Overnight we have become presenters, directors, film crew and make up artists in 'Acorn United Studios'. The studio name was picked by Sammy and emphasised that although we are apart we are still able to learn together. In the studio we have delivered phonics, maths, storytime and got the children to engage in a number of learning opportunities. The studio has been used as a portal at home for the children to present their learning and share further learning they have been interested in. I have attached some of the posters the children have made to put in Acorn class studios and in their learning studios at home. Keep up the good work Acorn Class, I am really impressed with all of your effort and learning this week!
Here are some photos of our Art in a Heart work that has started this week across the Borders from Nursery to Year 6 - Henry has added a lovely quote.
This term Year 5 and 6 have been learning about 3D shapes. We have looked at the nets of 3D shapes and learnt how to find the volume of cubes and cuboids.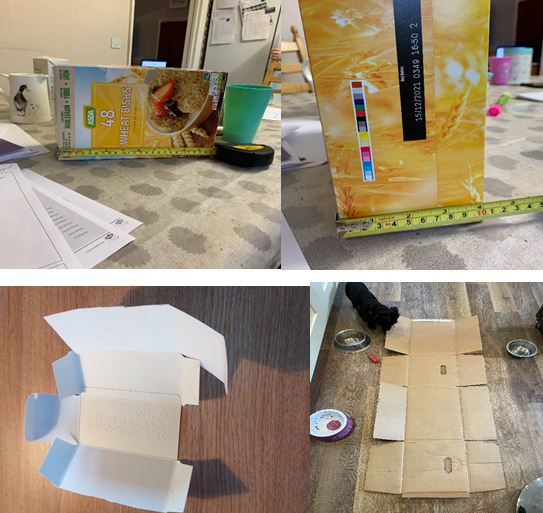 There is some maths work from year 2 - place value on the kitchen table!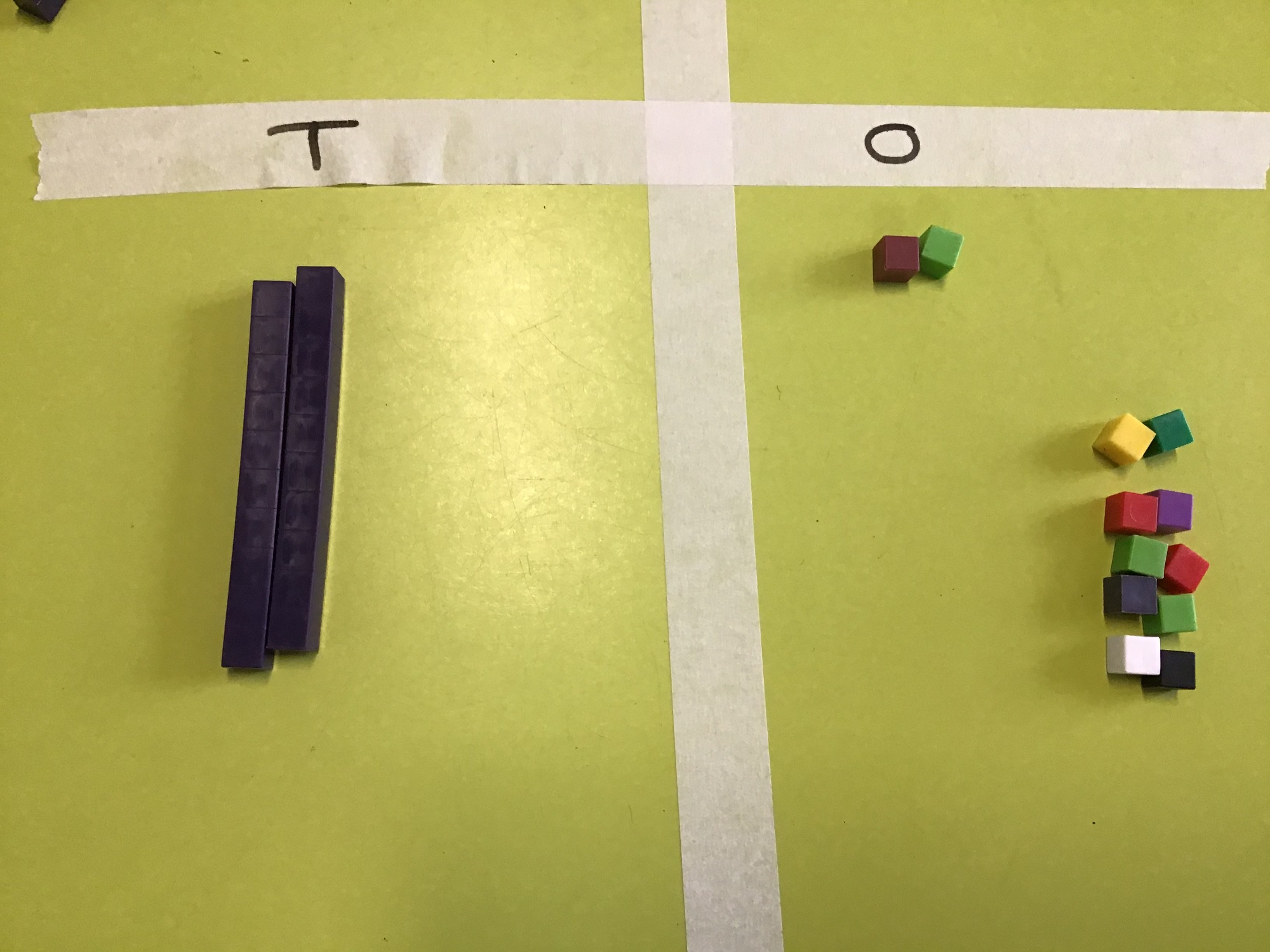 Also, a fabulous collage illustrating the organs of the body.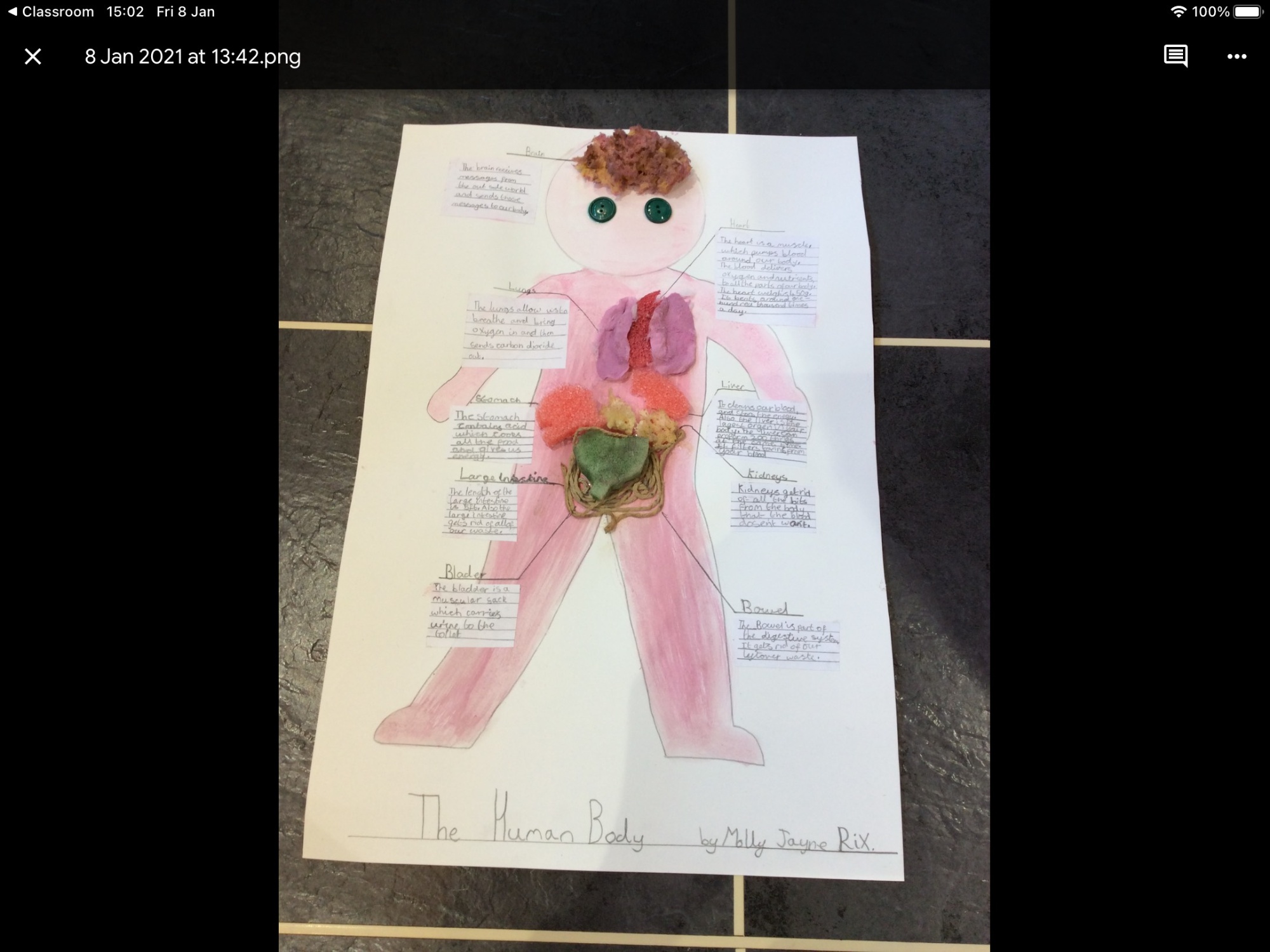 glebeland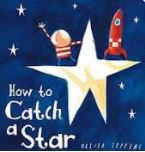 Class 1 are learning about space this half term. We have read the story "How to Catch a Star" by Oliver Jeffers and we then made our own vehicles to take us into space. We also thought about what we might need to take with us and made a list.
Outside, we have been searching for and drawing cobwebs. We also found out some interesting facts about foxes.
This week, class 3 have been focusing on grammar in their English lessons. We have been learning how to write in the first person and how to use adverbs of time and manner. We have been reading James and the Giant Peach in guided reading and using this as inspiration for some of our writing.
HELMINGHAM
Our wonderful ELSA (Emotional Literacy Support Assistant), Mandy Fayers has sourced these amazing 'worry monsters' from the charity 'Knit-for-Nowt'.
She is planning to use them in online sessions with pupils to ensure that her essential support can still go ahead 'remotely'. They will form part of an introduction to enable children to discuss their feelings as some children find it easier to share with the monster rather than talk directly to an adult.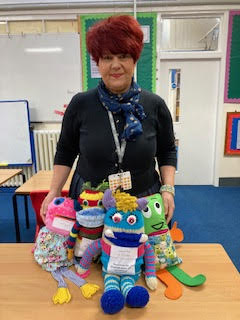 New teacher joins Helmingham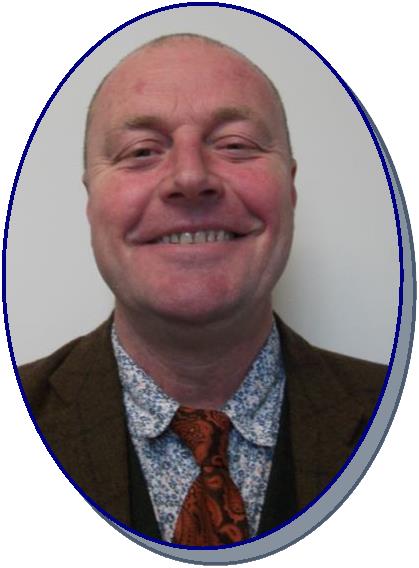 We are delighted to welcome Phil Jones who teaches Owls class. Phil has over 30 years experience mostly in mainstream Norfolk and Suffolk schools, rural and urban, but also in special school settings. He spent a few years in an International school in the Seychelles - sounds idyllic, but he didn't enjoy sunbathing, eating fish, and isn't a great swimmer!
Phil has been in Norfolk since 1990 and is a father of two boys but has done a lot in his time; international schoolboy volleyball player, coxswain of a lifeboat, lived in caravans, on a boat, in a horsebox, in a railway wagon! Education officer for Norfolk Museum service, storyteller, woodsman, buyer and seller of old tools, rural and domestic bygones. He is a lazy football supporter - Tranmere Rovers are his local team but he's a Red really, from a proper scouse family!
Woodpeckers Class
Before Christmas years 3 and 4 did some Talk4writing work based on the book 'I want my Hat Back' by Jon Klassen. The children enjoyed learning the text through actions and then cementing the knowledge of the story through story mapping. The children then explored how sentences are made and how we can make them more exciting using adverbial phrases or fronted adverbials. They then began to think outside of the story and create sequels or prequels to the original story. How did bear lose his hat?
Owls class
Last term Owls were really challenged but persevered to design and create their own pencil cases. Some children made them for themselves and others as gifts for family members.
HENLEY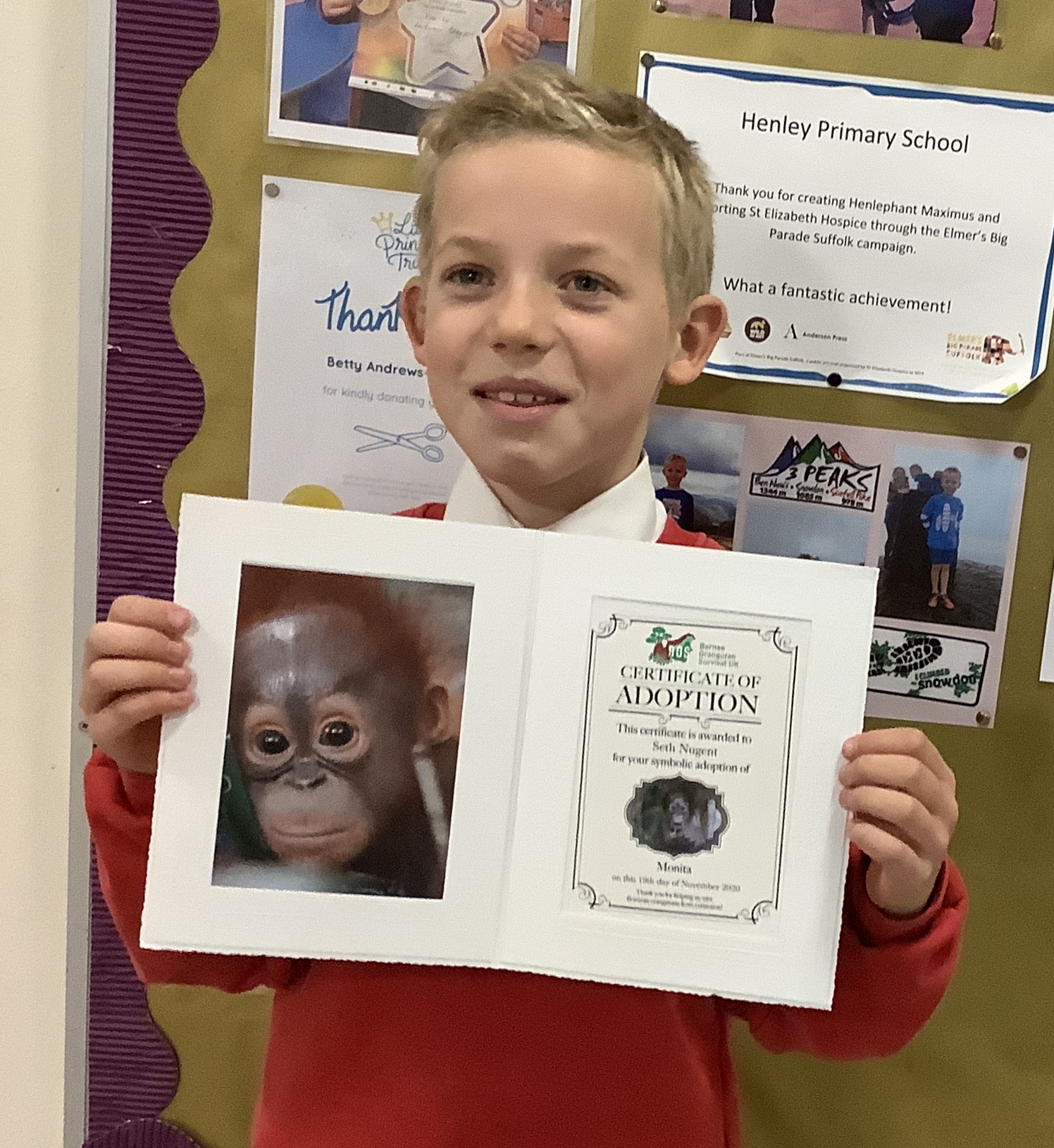 Class 3 are learning about 'The Rainforest' this term. Seth Nugent felt so strongly about the impact of deforestation on animals that he designed a poster and posted copies through his neighbours' letter boxes. One neighbour was so impressed that she adopted an orangutan for Seth. The orangutan is called Monita and she is 2 years old. Seth is going to be keeping Class 3 updated as to how his orangutan is getting on at school!
Christmas parcels
Organised by Mrs Carol Cable, children from all four classes collected over 40 boxes of biscuits and chocolates for the local charity FIND (Families in Need). These gifts will make up part of food parcels which the charity will be sending out this Christmas.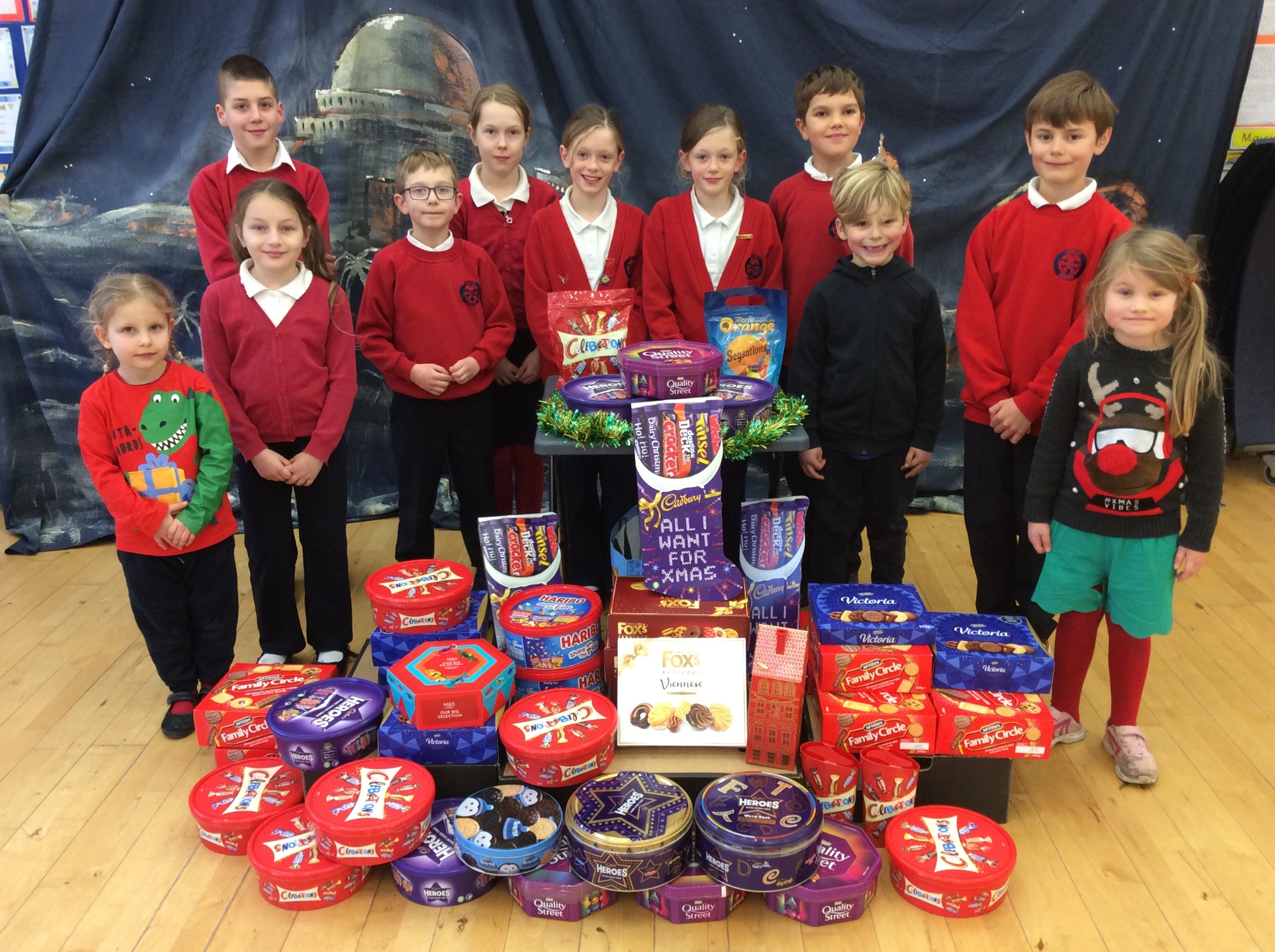 KIRKLEY NURSERY & EARLY YEARS CENTRE OF EXCELLENCE
Kirkley Nursery & Early Years Centre of Excellence, in Lowestoft has now been open and part of Consortium Trust for four months.
Throughout the summer holidays the large three nursery rooms were cleared, painted and restocked with quality resources. Below you will see the before and after photos of the baby sleep room, which changed from a dark purple to a calming pebble grey.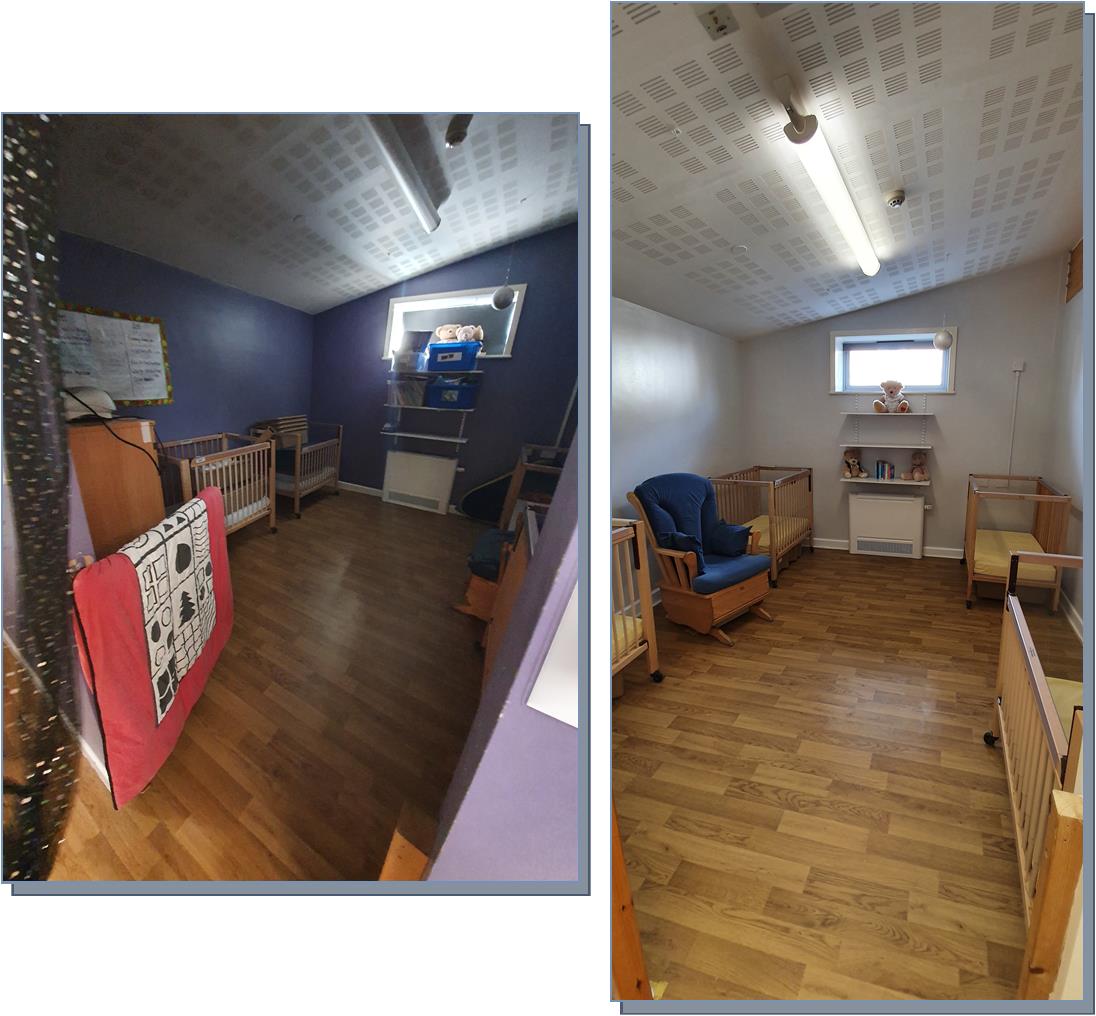 The number of the children on roll is growing and we now have 43 children who are attending the nursery, the majority of them on a part-time basis. There is a core team of five experienced nursery practitioners who are supplemented by bank staff on days when children numbers are higher.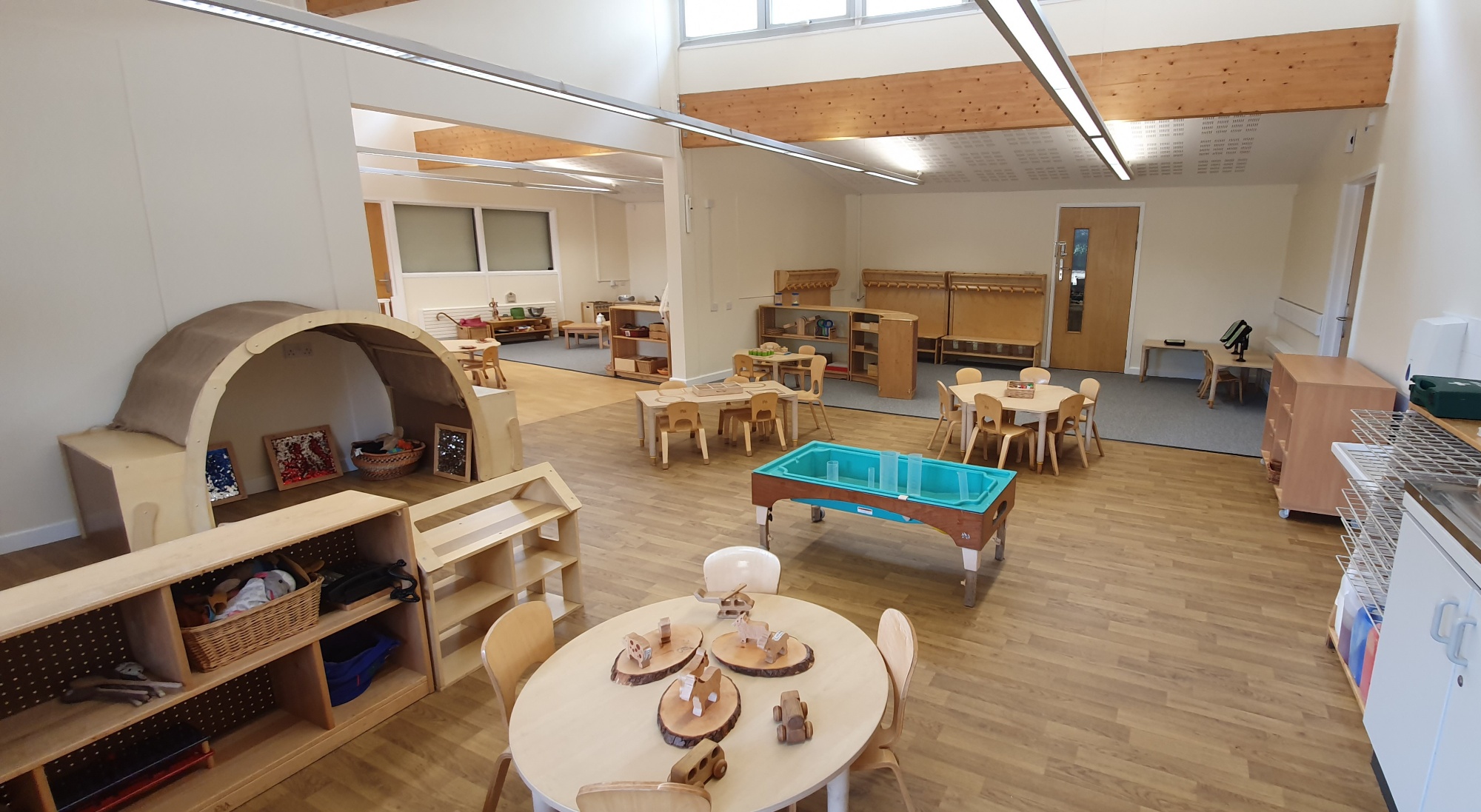 As well as the five practitioners, Kate Bell (Nursery Manager) and April Bunn (Office Manager) ensure the day-to-day organisation of the nursery runs smoothly and are the first point of contact for parents.
We have a popular Facebook Page, which shows the journey towards opening from July 2020. This page regularly updated to show the variety of learning opportunities on offer in the nursery.
The staff have just started working towards The Curiosity Approach accreditation. The accreditation consists of six modules progress through over the next 12-24 months. The Curiosity Approach ethos is to use a child's natural curiosity to go back to basics with the use of wooden resources, ordinary household items and 'loose parts'. Loose parts are open-ended materials that can be used and manipulated in many ways. The Curiosity Approach modules encourage on-going self-reflection to improve the nursery environment and educational practice. We are very excited to have this opportunity!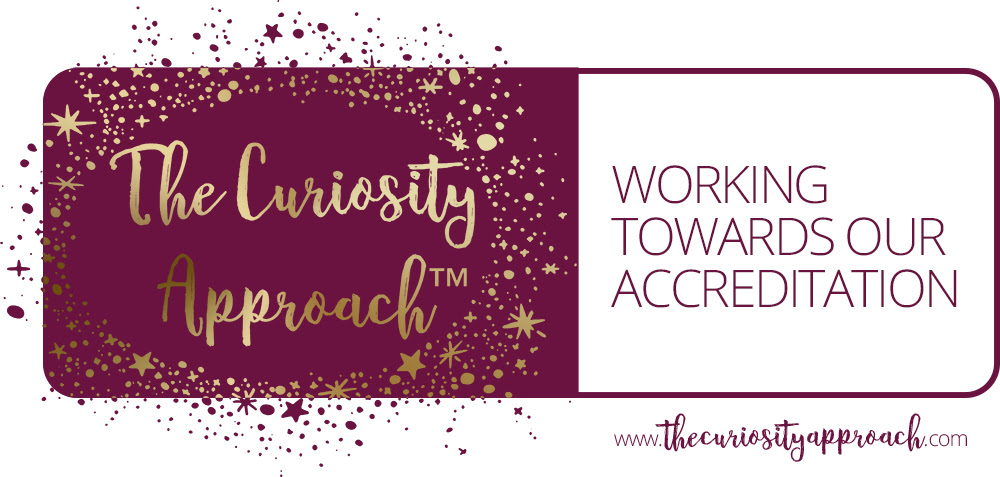 MIDDLETON
Our Y2,3, 4 class are looking at Space in English, Science and History this half-term. Dani shared The Solar System Song with us, have a listen! We reminded everyone that when we are using YouTube, to copy the URL into ViewPure first and purify it.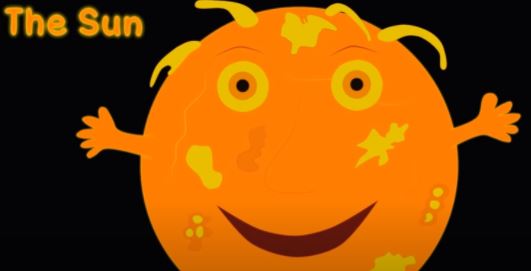 In preparation for all our Space studies, we started building our own streamlined spacecraft.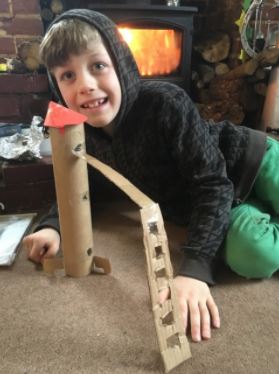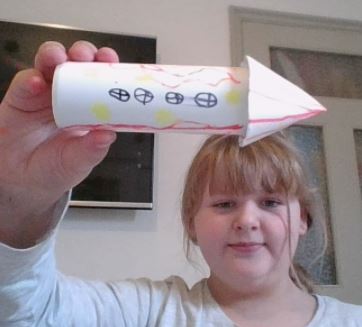 Every day Maple write in their writing journals - at home and in class - in response to the same writing prompt. Once a week, we look at a close-up photo then try and guess what it is, as if David Weisner's cat (Mr Wuffles) was looking at it under the radiator.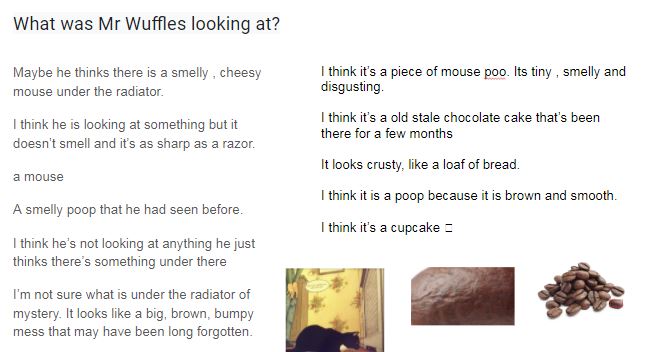 We are all learning to improve our keyboard skills with BBC Dance Mat. This is one class member touch-typing for the first time.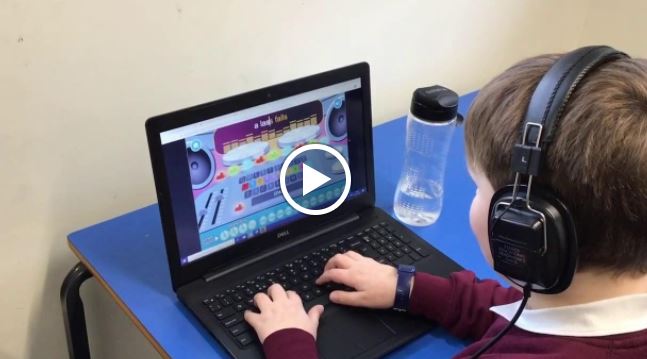 We are linking the Y2 Science unit on Seasonal Change (including daylength) with Earth's movement in Space; in Geography, we will be linking what we experience as Winter to other Middletons in different hemispheres and on different latitudes and see how their seasons are different to ours.
Our LIVE Spelling test is on a Monday at 8:30am for everyone. Here is an example of how a class member at home was trying to learn their Y2 spellings ready for the test.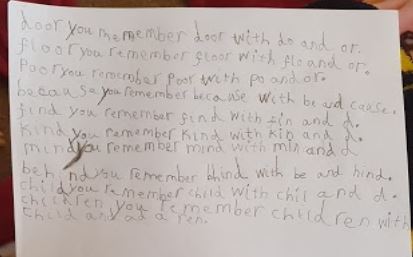 Back in October Year 3-5 class at Middleton looked at diversity, culture and kindness in our English lesson to acknowledge this year's theme for World Mental Health Day, Celebrating Differences.
We began the lesson by watching a muted version of the Brené Brown's short film on empathy, pausing to discuss what we thought the characters could be saying to each other and feeling. This supported the class in differentiating between empathy and sympathy and we recognised that although we are all different, at times we can all share the same or similar feelings as other people.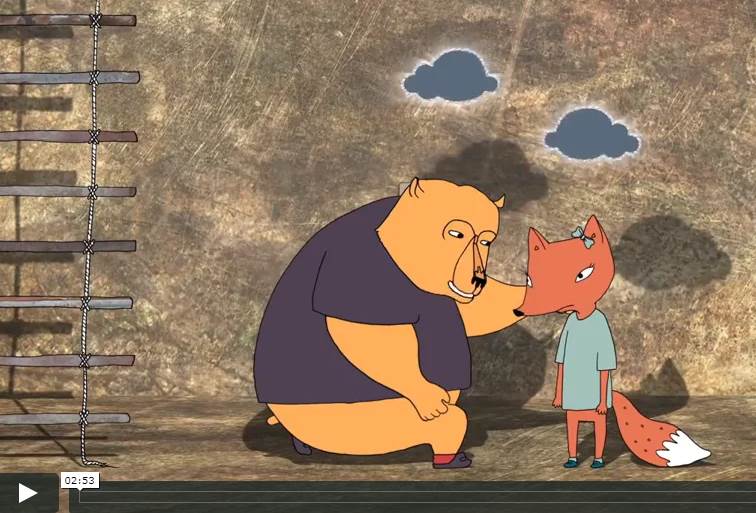 Next, we split into groups with Mrs Brunning pre teaching R.J Palaccio's wonderful "We're All Wonders" with just the LKS2 children whilst I showed the Childline video "Celebrating Culture and Differences" with Year 5s. From watching this twice, the Y5s and myself created a mindmap together exploring what we understood by the words culture and diversity. Our wide-ranging discussion covered topics as varied as someone having freckles.
A Year 3 pupil wrote five words that express what it might feel like to walk in (central character) Auggie's shoes: scared, lonely, worried, hurt and paranoid.
This Year 4 wrote five questions they would like to ask Auggie:

Year 5s had a choice to start short stories about meeting someone who is different from themselves or to write letters to Auggie inviting him out. Their challenge was to include details of how they themselves are wonders too – we recognised that to be kind to others, we have to be kind to ourselves.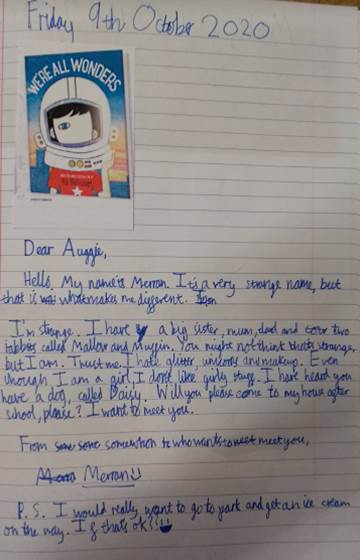 We finished the lesson with a meditation. The children closed their eyes as I spoke the following. They were asked to first think of themselves:
Let me be safe
Let me be free from pain and suffering
Let me be as happy and healthy as I can be
Let me be at ease with being me
Then they had to picture three different people – one they hardly knew, one they disliked or struggled to get along with, and the person they loved most in the world. I repeated the following for each person imagined in their mind's eye.
Let them be safe
Let them be free from pain and suffering
Let them be as happy and healthy as they can be
Let them be at ease with being themselves.
RENDLESHAM
Here is some examples of some work submitted onto google classroom from some year 1s.
Poppy (year 2) has written this fantastic poem from the first task we set on day one of home-school. She was inspired by the book The Lost Words.
I've left her this feedback: I love your poem Poppy! I am going to print this one and put it up on our display! You have carefully chosen descriptive language to make your poem really interesting for the reader. You should be incredibly proud of this work!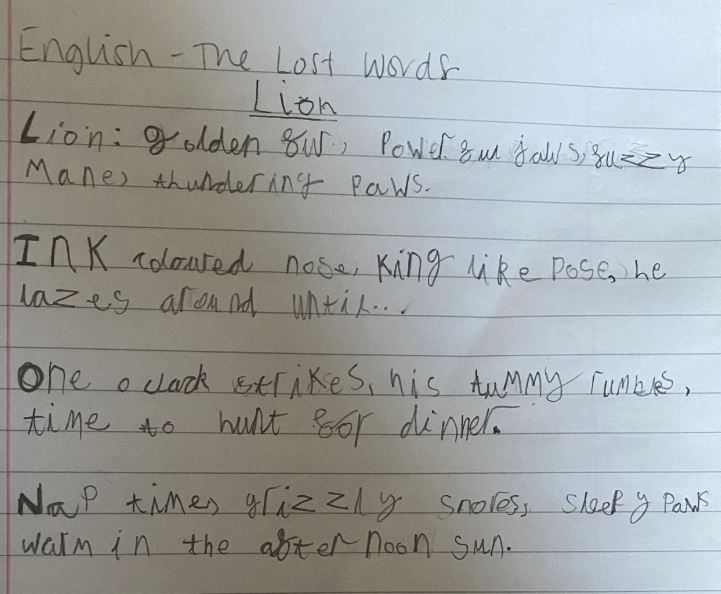 Reception
The children have been looking at the animals and people who live in the Arctic and how they have adapted to live there. Children at home have been joining in too with some of the activities.
southwold
We love READING at Southwold
At Southwold, even though some of us are working at home completing online lessons we still recognise and value the importance of reading. Mars and Jupiter Class are taking it in turns to deliver mini book reviews virtually – a cunning way for teachers to check in on daily reading! The younger classes are enjoying story sessions led by their teachers on their Google Classroom stream, whilst children in KS2 in school join Ms Cashell virtually daily for a chapter of 'The Sheep Pig'.
For Christmas each child was lucky enough to receive a book token from the Southwold and Reydon Trust. Some children have shared with us how they greatly enjoyed a trip to the local book shop to spend their token and make their selection of book.
Story time!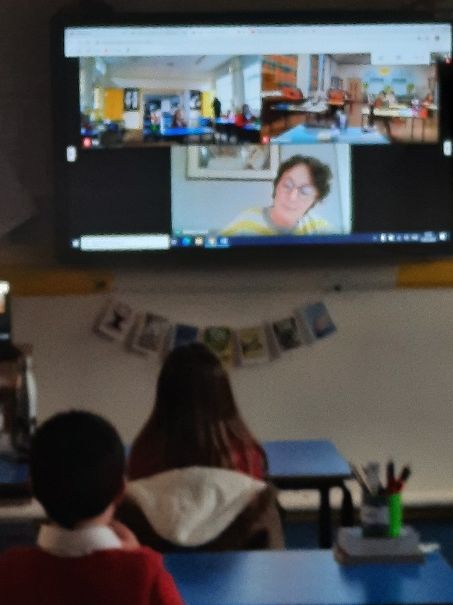 st edmund's
Oak Class
The maths is by Younis and he had to find objects to practice his tens and ones for place value.
Emilee's writing is brilliant. She was given extracts from Paddington at the circus and she had to write how she wanted the story to continue.
Reading Challenge
The Whole school took part in a challenge to read as many books as they can during the term and we now have the winners!
The first time Oak class won and last term the proud owners of the trophy are Beech class.
The children have taken it in their stride and enjoyed the friendly competition between classes.
We Look forward to seeing this increase in the next half term as we battle it out once more to see who will be the next to hold class the trophy.
We want to say a big thank you to Mrs Gladwin for organising this competition and keeping a tally of everyones hard work.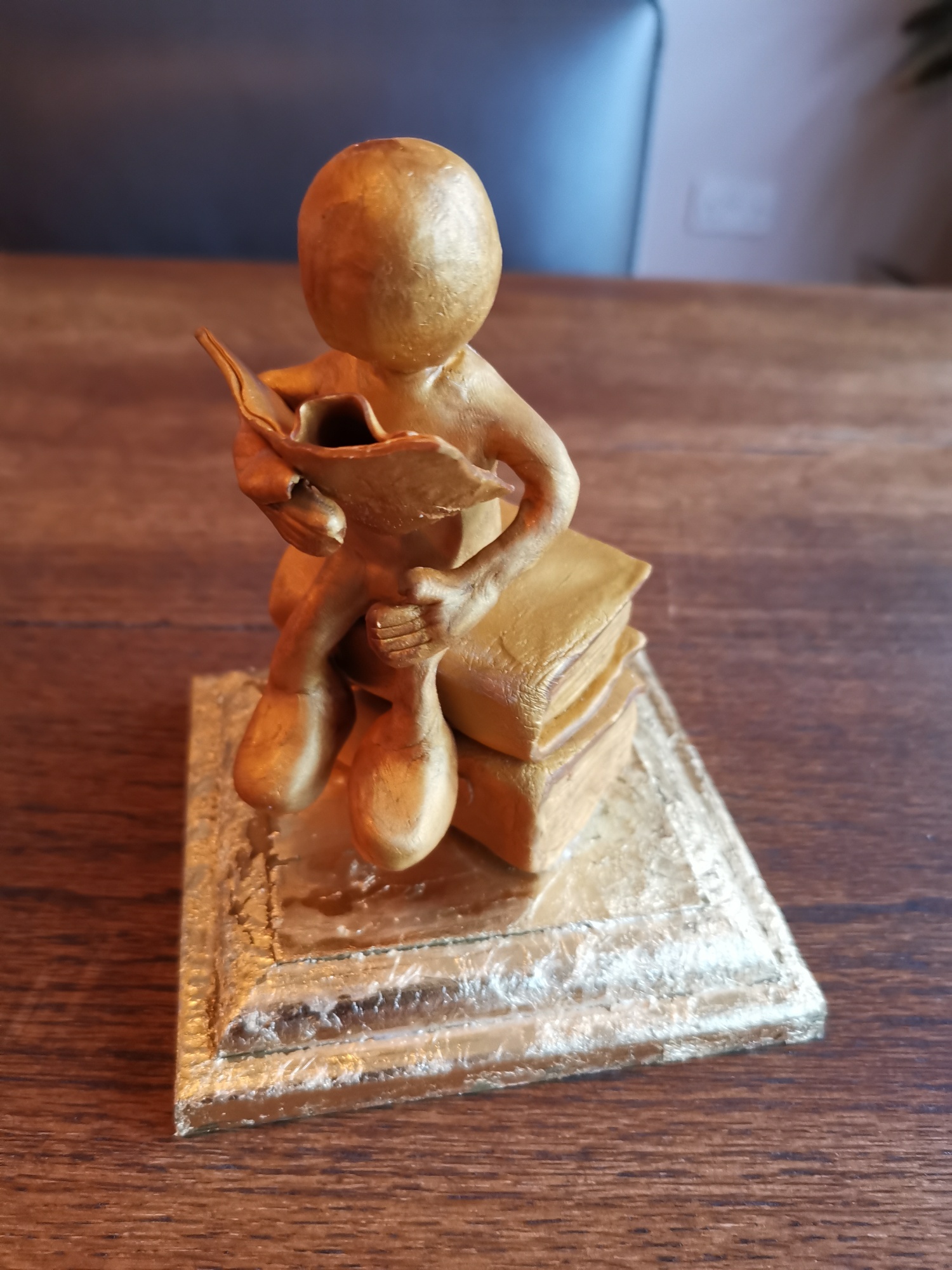 WINTERTON
These fantastic mosaic tiles made by the Sharks are so bright and colourful it is impossible not to smile at them (even in these trying times!). Inspired by designs in Parc Guell, the children thought about the warm and cold colours and natural forms which inspired Gaudi to design their mosaics.
Although Christmas has passed we wanted to share some of the work that was produced last term. The children at Winterton created some lovely clay shape sculptures in their art lessons, Seals used Barbara Hepworth's Mother and Child sculpture to inspire our Christmas cards depicting Mary and Jesus and also made models for a Nativity scene.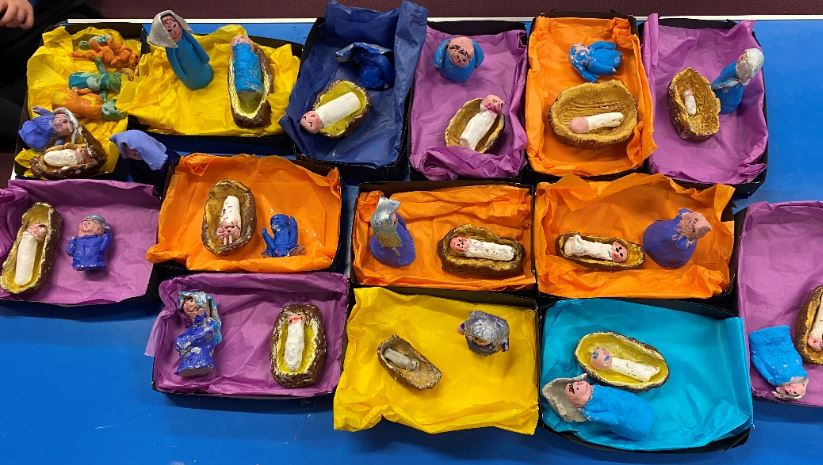 The Seals have been working very hard on a number of projects leading up to Christmas and they are very proud of their finished results.
The children really enjoyed learning some basic woodwork skills including sawing, hammering, sanding and drilling to make their standing wooden Christmas trees and for children as young as five years old, they demonstrated excellent technique and could clearly explain how to use the tools safely. The children then enjoyed painting their trees and decorating with wooden stars and lots of glitter.
Following this, they continued their woodwork topic and made some wooden slice Christmas tree decorations by drilling holes in the slice and then decorating as either a penguin, snowman or Father Christmas. Whilst the children were decorating their trees with gold and silver spray paint, they created some accidental stencilling and as they were really interested in this, we then made some stencilled Christmas cards for all the adults in school who have helped us throughout the year.
Finally, we worked very hard to create our first ever virtual Christmas nativity performance of An Angel, A Star and A Stable. The children practised their lines, developing their acting skills and singing songs.
YOXFORD & PEASENHALL
Oak Class
Oak Class are making real life number lines at home and at school. As part of our maths learning, we have been practising our number formation by using everyday resources to create numbers. This was great way to ease into our live learning which has been very fun!
Learning at home
The children in the next photo are following a recipe to make moon sand. Ethan made a volcano
for their phonics v sound and used red food colouring.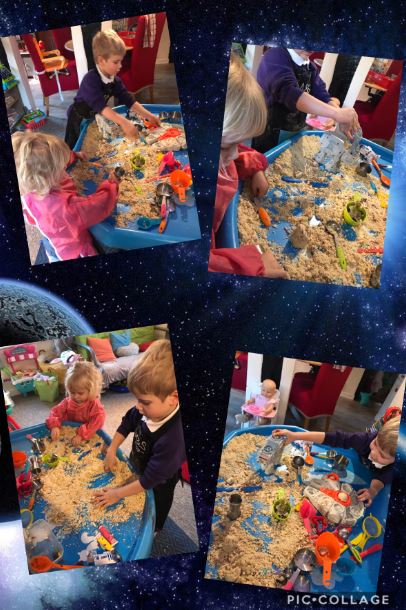 Elm class
Elm class shared the story 'Mouse Shapes.' They then explored shape by using lolly sticks, peg boards and 2D shapes. The Nursery have enjoyed rescuing animals in jelly, developing their balance skills by using their bodies to travel in different ways across a bench and learning new nursery rhymes.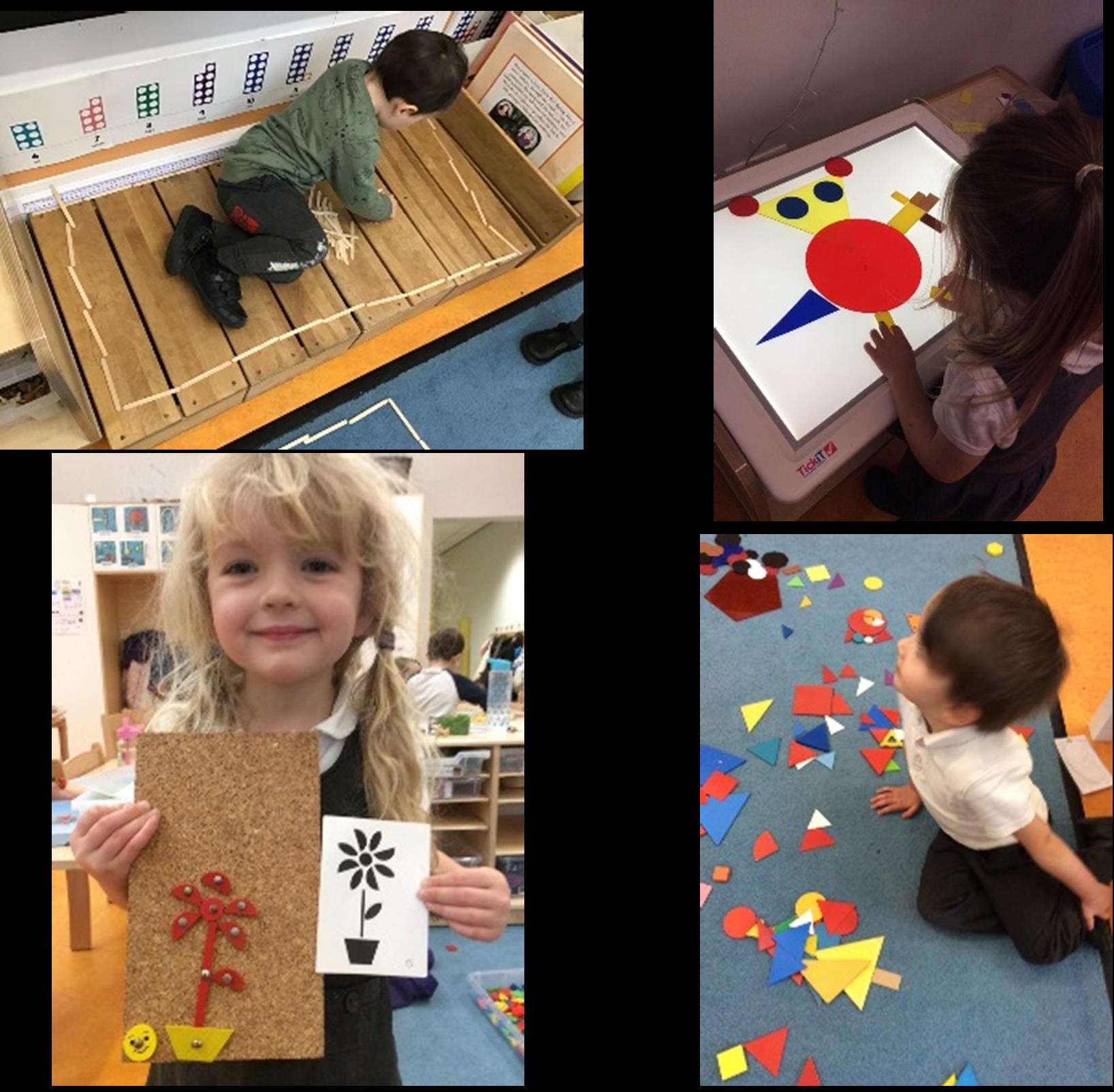 Silver Birch Class
The DT project is starting to take shape. We have been carefully measuring the wood and safely sawing our supporting beams to create the decks for our chosen section of the Tudor warship.