News from around our schools
barnBy north cove
In Acorn class we have been using rhyming books to fuel our enthusiasm for maths. We have been learning about compositions of numbers to 5 and turned our broomsticks into 5 frames to help us work these out! We acted out Julia Donaldson's 'Room on the Broom' and used the 5 characters to find all of the different compositions that make 5. We have also learned lots of songs that use the number 5 and have practised our learning by singing and acting them out while adding and subtracting!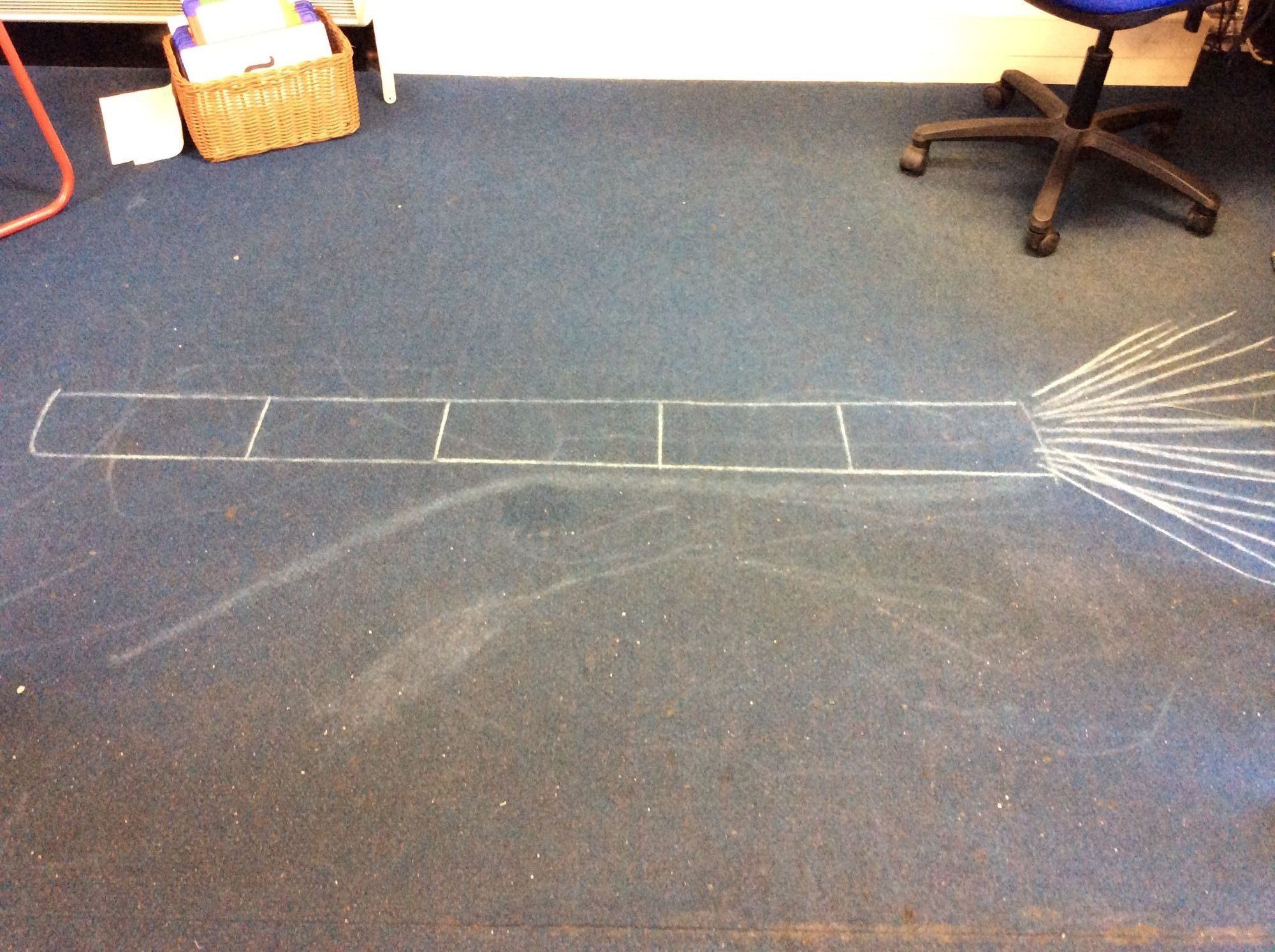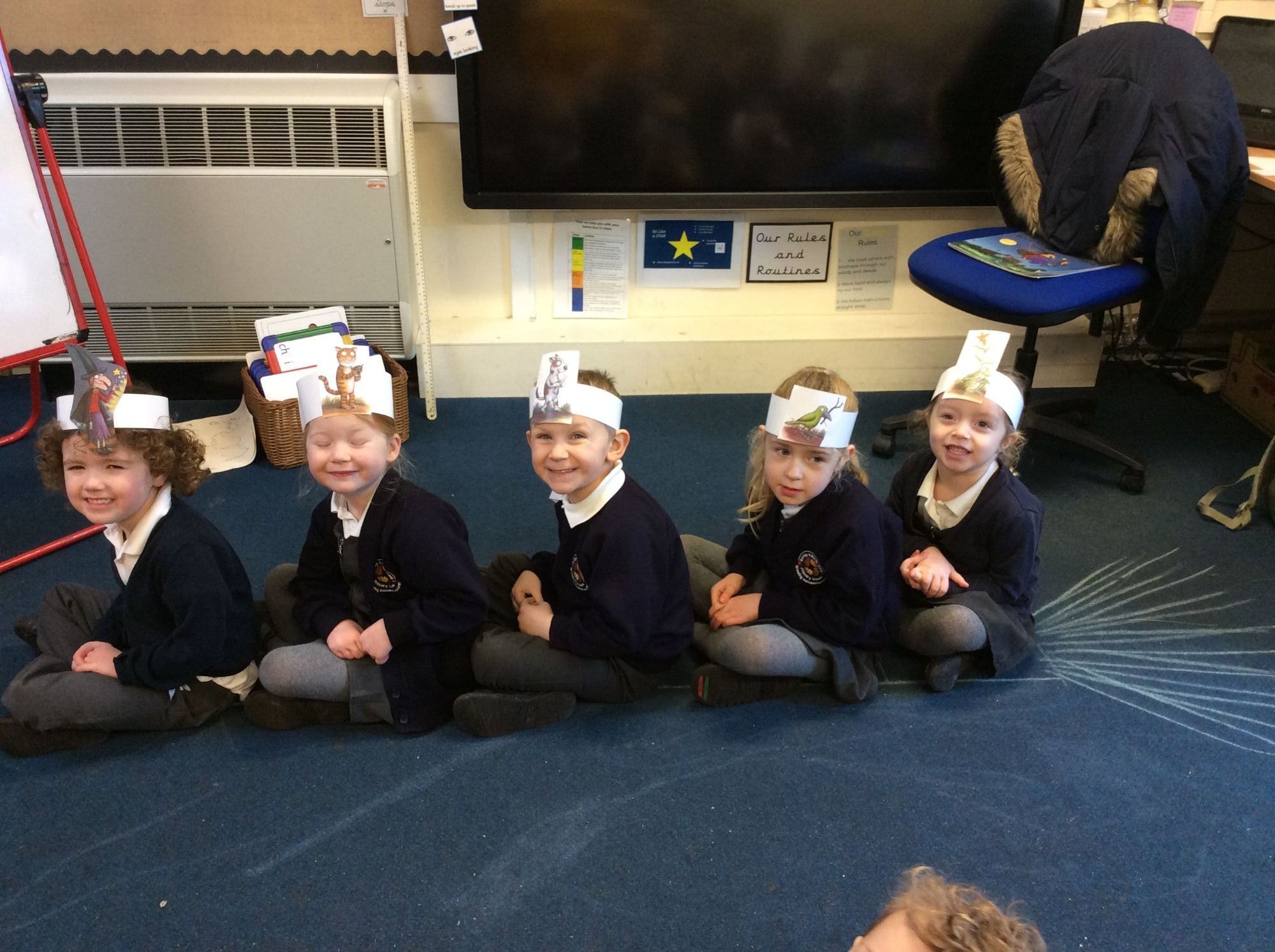 glebeland
Robin class began their new Talk for Writing Text, Three Billy Goats Gruff, this week. We have been busy exploring the best way to make bridges to "trip trap" across, both inside and out, and looked at lots of famous bridges around the world for inspiration. We have also begun to think about our big question "Where in the world are we?" by looking at our school's outdoor environment and surrounding area, finding out where our school is on a map and thinking about how we get from our home to our school.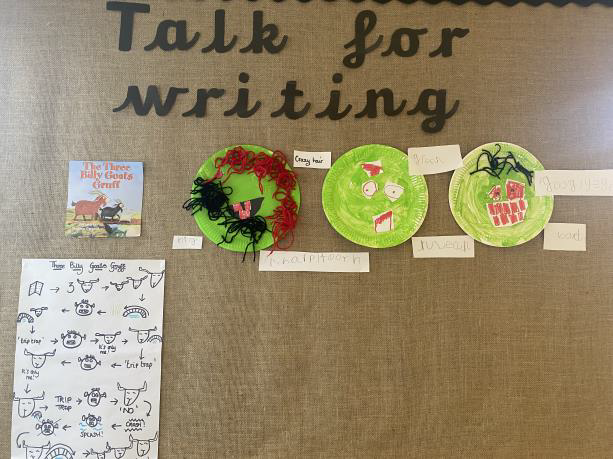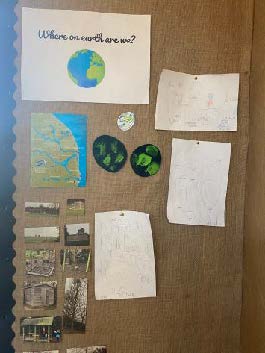 Starling class have been learning about warning stories in English. We are learning to retell the story 'The Caravan' by Pie Corbett using a story map and actions. The pupils then practised writing expanded noun phrases and using prepositions to describe different abandoned places.

In history, we have started to learn about The Romans. We have started to design and create a Roman mosaic and we have learned two different stories about the founding of Rome. The pupils then decided which story they thought was a legend and which was factual.
Woodpecker class kicked off the term by looking at what it was like to be a child during the Victorian era. This links very closely to our Global Citizen theme; Social Justice, Equity and Human Rights where we will have a focus on learning about child labour around the world. Children discussed the jobs that children were made to do and the conditions that they had to work in. Although some children liked the idea of not going to school they didn't like the idea of starting work at 4am either!
In Art, the children took inspiration from the birds in our local area, specifically owls and created their own representation using clay. We then used the primary colour to make the colours we needed to paint our owls. We created colours that made them authentic but also some mythicall!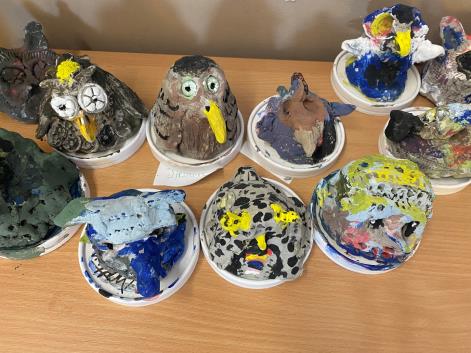 In Red Kites, we had a great start looking back at 2021 and forward to 2022. We've made New Start posters focusing on what we would like to try or do in the year to come. We have begun our investigation into light to solve a crime. We have proved light travels in straight lines and used angles to identify where our suspect might have stood. We will be making periscopes this week and explain how they work.
We have made a great start in PE, learning about our cardiovascular system and we had a go at setting our baseline scores in squats, running, shuttle run and stretch last week to measure against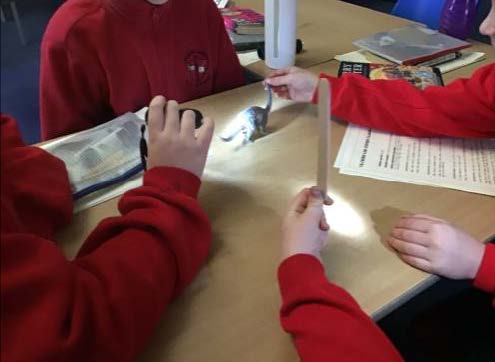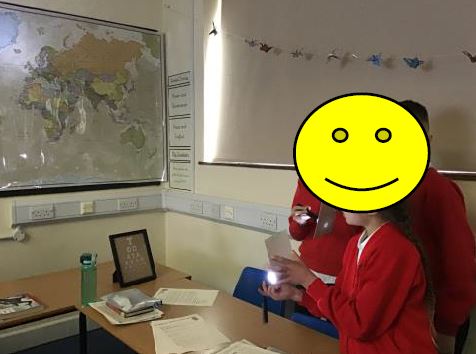 Helmingham
The children had a wonderful time visiting the Illuminated Garden Trail at Helmingham Hall.
A Christmas singsong in the playground!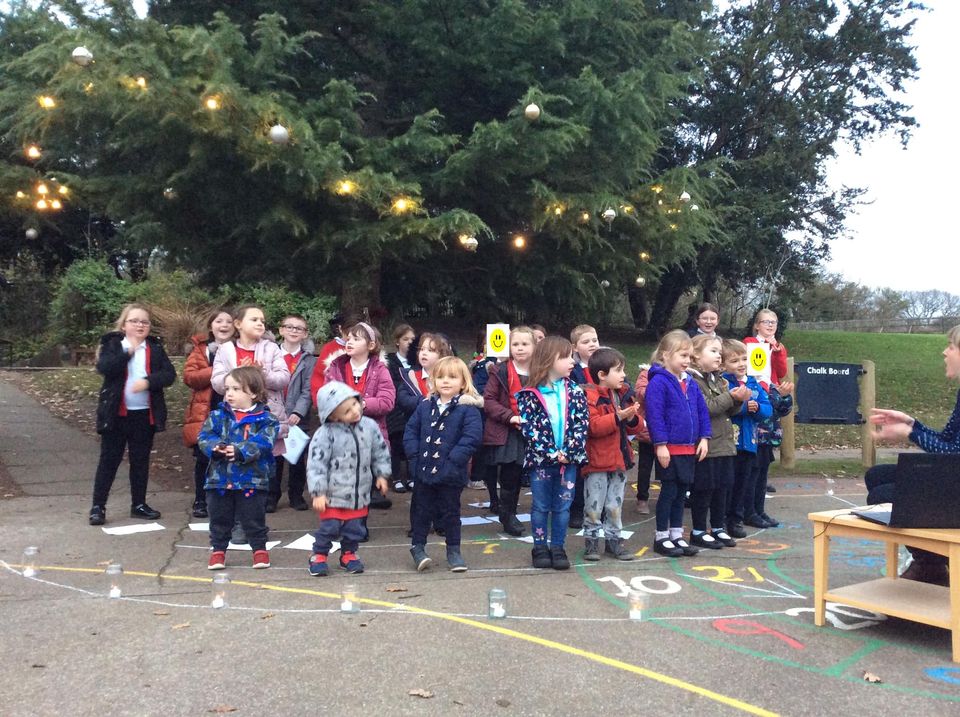 HENLEY
KS1 Nativity - I'm gonna shine!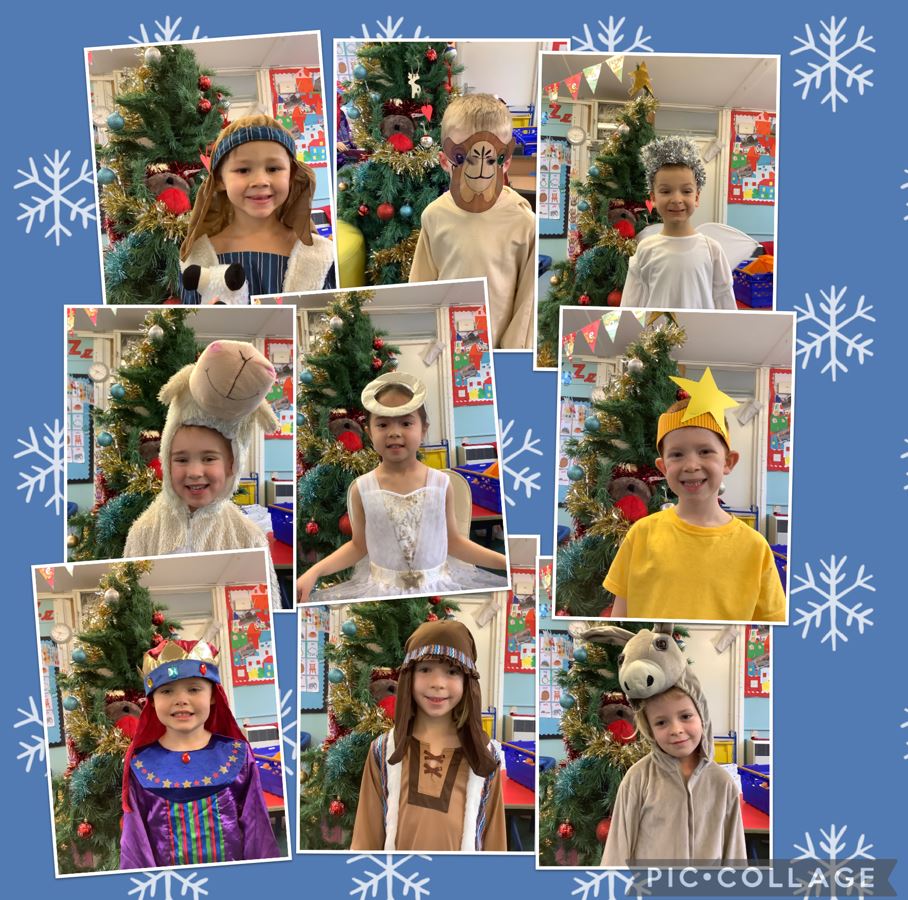 On the last day of term, the Greenfields Partnership schools went to see Aladdin at the Regent Theatre in Ipswich. It was lovely to see a live show again and a first trip out of school for the little ones.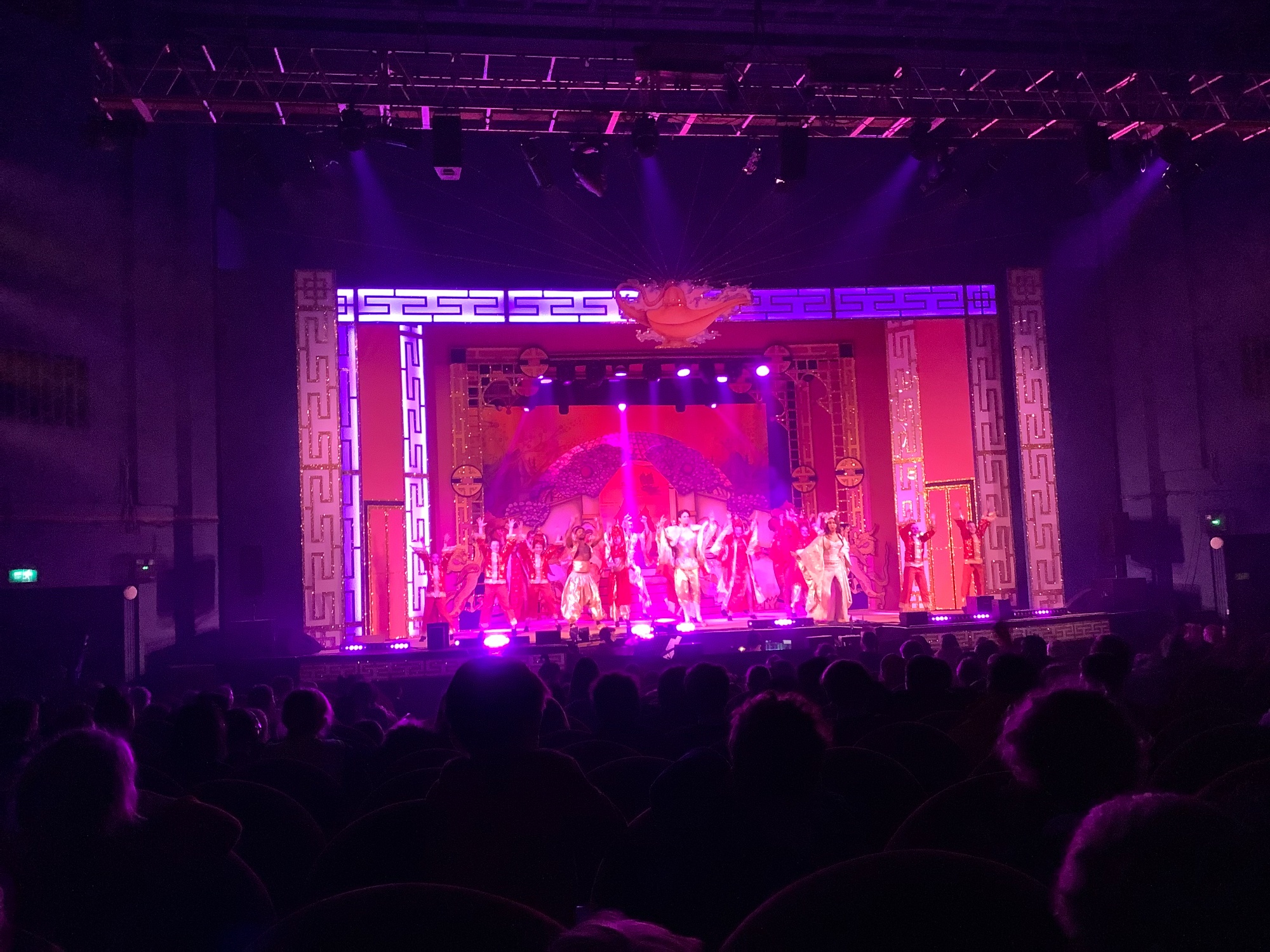 kirkley nursery & early years of excellence
Talk for Writing
Here at Kirkley Nursery we are starting to adopt the 'Talk for Writing' scheme in all of our rooms. We have selected core texts for each term, and our children have been exploring some wonderful activities to encourage their learning of the stories. Below you will find a newsletter with a bit more information on 'Talk for Writing' and story maps.
Talk for Writing: A Guide for Parents
What is 'Talk for Writing'?
The 'Talk for Writing' scheme was started by Pie Corbett, who realised that school children were being expected to write stories, without knowing any themselves. 'Talk for Writing' aims to build up an extensive and rich vocabulary for use in their own writing.
It enables children to imitate the key language in stories before they try to read, analyse it and then write themselves.
'Talk for Writing' starts with the imitation stage, where children enjoy and share stories together. They learn the story off by heart and retell the story with expression and actions. Once the children have learnt the story, they move on to the innovation stage, where they make the story their own, (for example, 'We're Going on a Bear Hunt' becomes 'We're Going on a Monster Hunt'). After this, the children will try and create their own stories, using new characters and settings, (called the innovation stage).
Helping at home
Your child will bring home copies of the story map from the core texts for the room.
Setting some time aside in the evenings or during the day to look at it together would help to develop their language and understanding of the story.
Play with words and vocabulary with your child- add descriptive words in to sentences, go on walks to find new objects that you can describe together.
Above all- read and share stories with your child. 'Talk for Writing' begins and ends with enjoying stories and reading books. Use different tones and pitches, funny voices when you read. Talk about the illustrations and pictures, and what they could mean. Ask questions such as 'what do you think will happen next?' If you don't have many books at home, perhaps you could take your child to the library to select some to borrow.
Here is a wonderful example of how children can use story maps to retell the story!
MENDHAM
Mendham Primary School has just published it's very own 80 page cookbook (led at ESC by Caroline Pearson.) The book has a variety of different recipes including breakfast bites, teatime treats, light snacks, cool drinks, gluten and dairy free, as well as non-edible playdough recipes. Recipes were provided by children, parents, staff and community members. We would like to thank everyone involved in the production of the book. Copies are still available to be purchased from the school.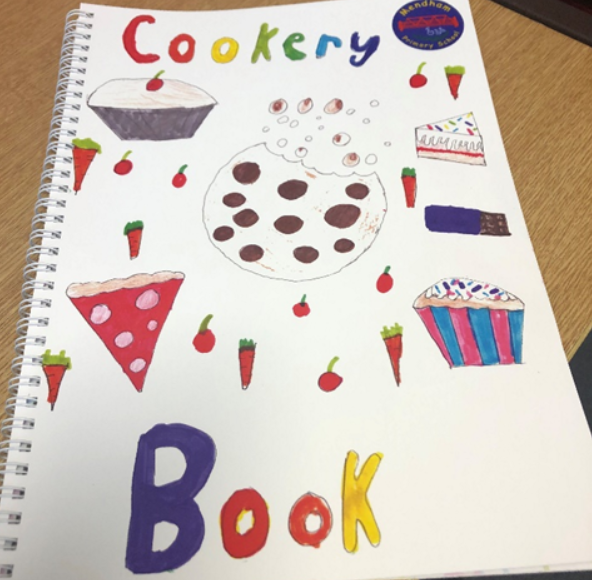 MIDDLETON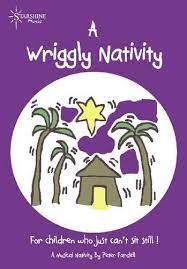 Last half-term was a busy and exciting one for children and staff at Middleton Primary. Key Stage One went to Foxburrow Farm on possibly one of the coldest days of the year. They definitely showed their resilience in the snow and learned lots about the animals and their habitats. In the run-up to Christmas, Spruce made Christingles in preparation for our Carol Service. Maple class used their knowledge of shape to create a giant Christmas tree and Ash class worked extremely hard to produce their wonderful nativity play - A Wriggly Nativity. We all enjoyed watching and were amazed at how confidently they all performed, especially being filmed as well. They are all Superstars in the making.
RENDLESHAM
Last term we focused on the curious question 'Which Mr Man or Little Miss is Missing?'. We started by reading lots of Mr Men books and we loved all the different characters. We then designed and created our own Little Miss or Mr Men characters in literacy and then built links with our Art project. We then modeled them out of clay. In the pictures we have Little Miss Cute and Little Miss Adventure.
In music we had the curious question 'How can you make an instrument louder?'. We collaborated and made instruments out of different materials. We had to be very resourceful and use the materials creatively to build an instrument! We made harps, guitars, drums and shakers. We experimented with different ways to make them louder and had lots of fun.
The children in the Reception classes had the question, Are castles only in fairytales? This was part of their learning linked to the theme of conflict. They loved exploring castles and their end project was to build one. They used their woodwork skills and knowledge of what a caslte was to produce this wonderful model. Through working on this project, the children demonstrated that they could work collaboratively, risk take and build links. We are super proud of them all and the effort they put in.
SOUTHWOLD
Southwold's Day of Drama!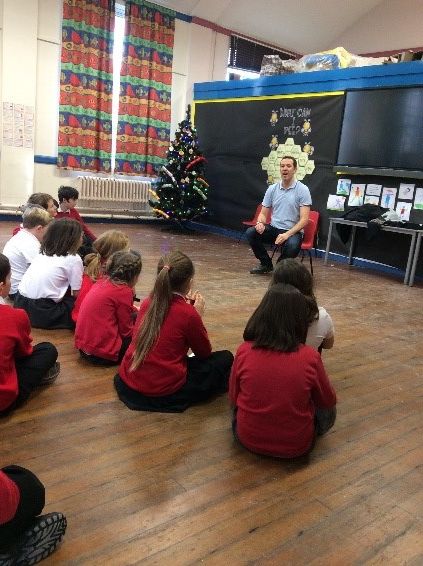 Before the Christmas break we were lucky enough to have drama sessions led by Barry Evans. Barry teaches at St Matthew's Primary School in Cambridge, but also co-writes productions and lyrics for Cambridge Touring Productions, the theatre company we are working with closely. He has been running and directing drama workshops for children on a small and huge scale for 20 years (including Latitude). His aim is to inspire confidence and creativity in young people, whether they like doing drama or are not so keen!
Key Stage 2 had their session first and started with a general introduction into drama – the session included whole group games, small group exercises, partner work and individual movement/role play. The session concluded with some script and music work based on Wind in the Willows, the same script that we had worked on last summer for our summer performance and that Barry had co-written!
Key Stage 1 and Early Years also had lots of games, but their session included an interactive story telling session too.
All children enjoyed their sessions very much and loved the experience of working with Mr Evans. We hope to welcome Barry back later on in the academic year to develop the work with our children more.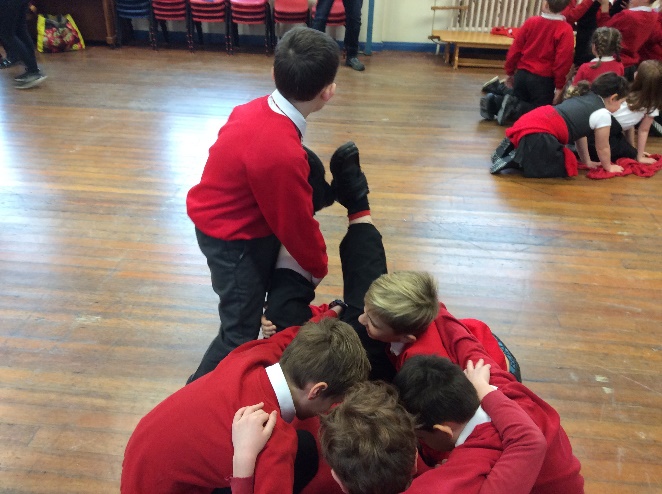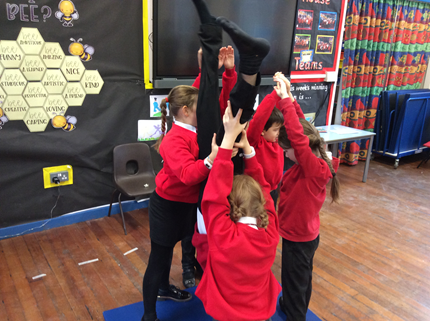 st edmund's
We have had a busy start to the new term, with our whole school theme across the partnership being inventions. This theme will be explored across the different curriculum areas, as well as the children continuing to develop their learning characteristics.
We are very excited to have our Pi platform up and running (to most of our pupils and have already had some fantastic work returned on our whole school activity 'floating and sinking.'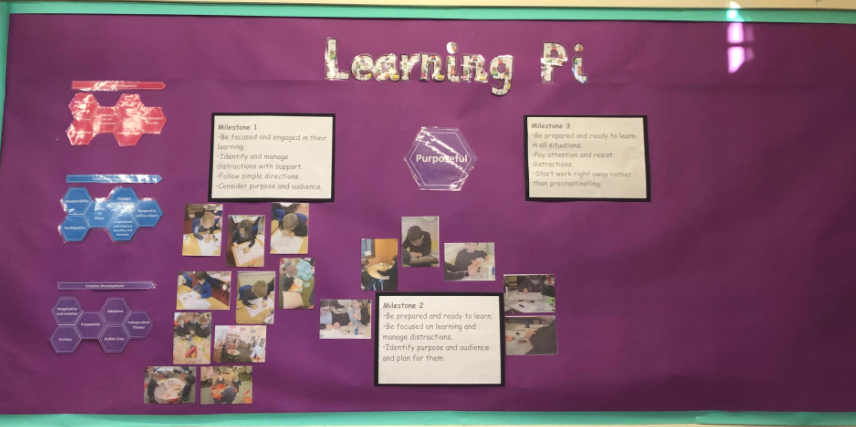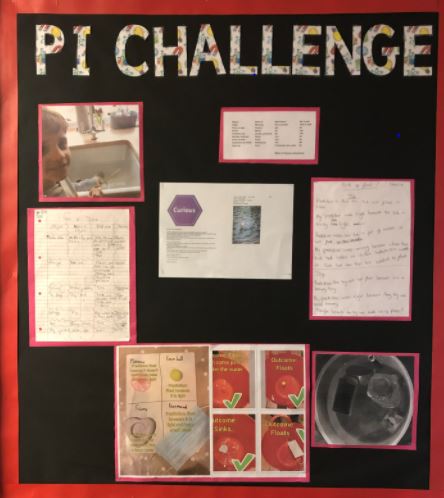 Yoxford & peasenhall
Early years have been using their senses to explore jelly. They enjoyed stomping through the jelly with Dinosaurs. We are also been looking at bigger and smaller. Nursery sorted and built towers to represent this.
In science we have been exploring different materials to see if they would make a suitable umbrella. We tested them today and will learn all about their properties over the coming weeks. The children showed fantastic collaborative learning throughout.
Extended school club
At Yoxford and Peasenhall, we've been developing our after school enrichment provision by providing a range of clubs for children to learn new skills in. New skills we've learnt include how to play netball and how to build an electric circuit in science.