NEWS FROM AROUND OUR SCHOOLS
Barnby north cove
Portraits
Our children at Barnby & North Cove Primary have been exploring what it means to be part of a community. They have been talking about identity and what it means to belong to a community. As part of this exploration, the children have been studying portraiture. They have learned about different artists and applied the techniques they learned to create their own portraits.
Glebeland
Community
At Glebeland Primary School we have been exploring the concept of Community and what it means to us. Year 6 have written about Community and created some portraits to show their class as a community. Reception class have been exploring portraiture too and have used a range of media to create theirs, including using items from nature, coloured paper and coloured pencils.
Henley
Competition success!
All of the pupils at Henley entered the Young Art East Anglia competition in aid of Cancer Research UK. These children had their paintings exhibited at the Peter Pears gallery in Aldeburgh. Ella Fairburn came third overall and Olivia Biven was awarded 'Highly commended'.
They had their paintings made into postcards and each got a certificate.
Well done to everyone who entered as we raised a lot of money for Cancer Research UK.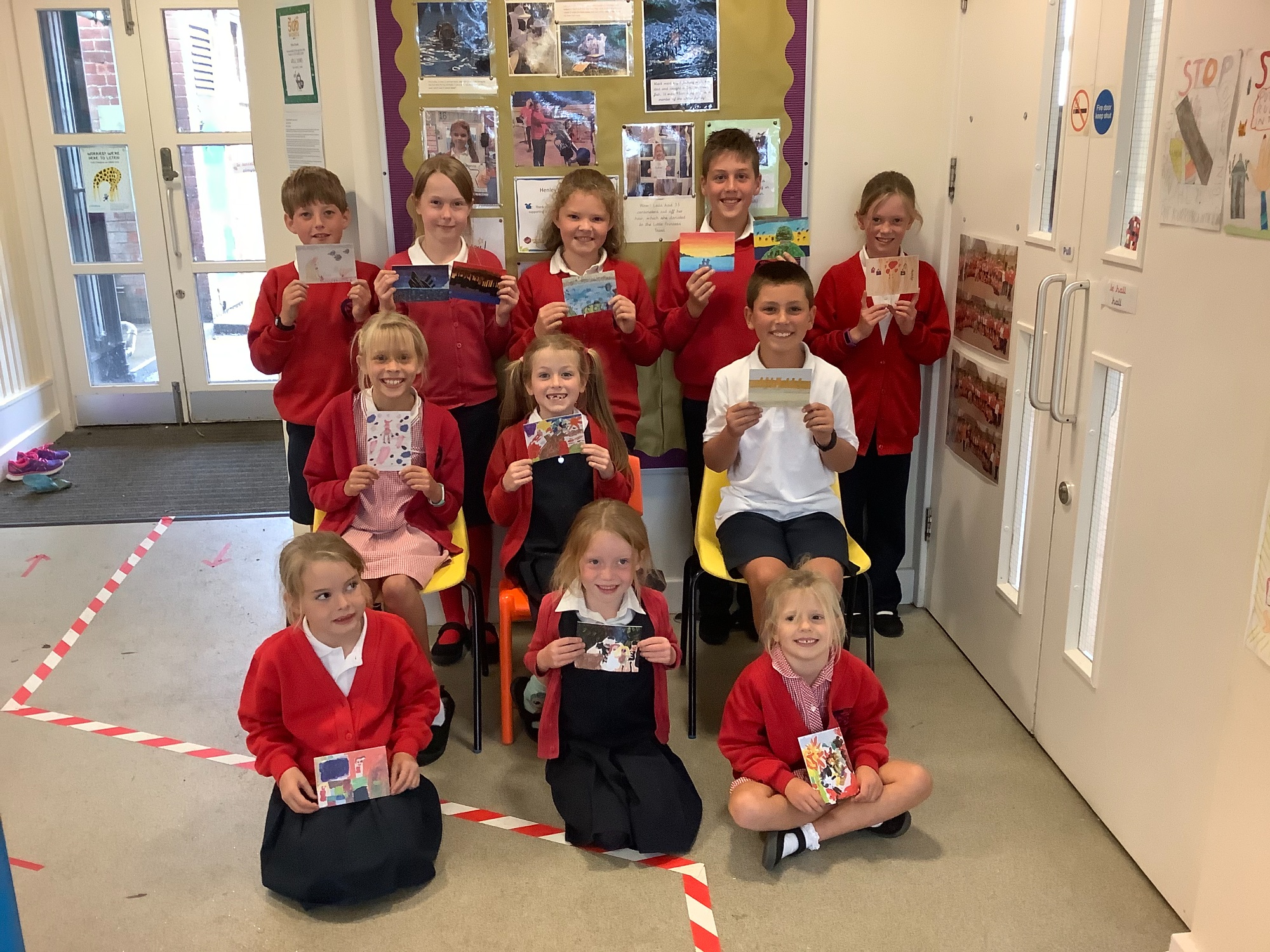 Art with pastels
Class 3 are studying the rainforests. They are really proud of their pastel work!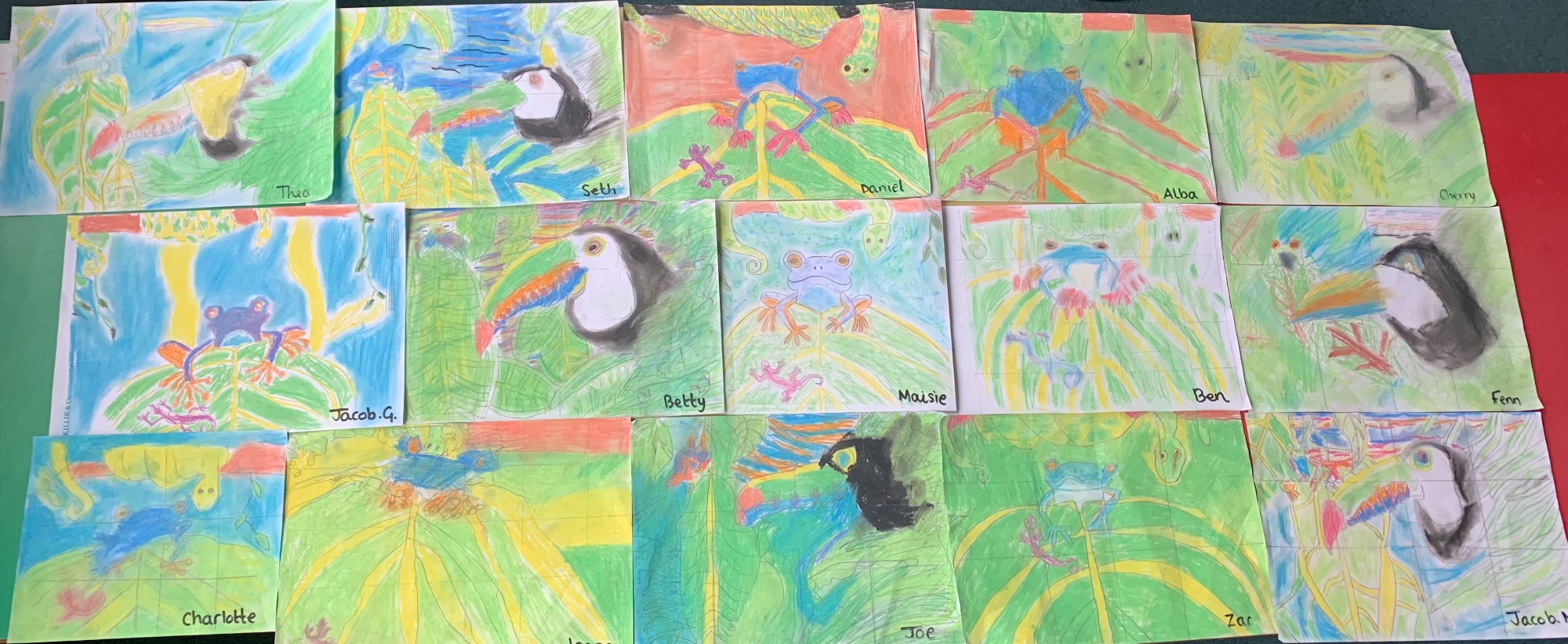 KIRKLEY NURSERY & EARLY YEARS CENTRE OF EXCELLENCE
Hedgehogs and portraits!
We would like to welcome all our new children and families to Kirkley Nursery & Early Years Centre of Excellence. Despite lockdown the children have settled into their new surrounding really well. We have received a lot of positive feedback from parents and numbers are increasing daily.
Our Hedgehogs which are 6 months to 2 years have been busy exploring the garden area for natural objects. They brought some in with them to create their own hedgehogs to display on the parent's welcome board.
Squirrels & Owls our 2 to 4 year olds have been doing 'All about me'. They have been using transient art to create their own self portraits.
mendham
Sycamore Class
Sycamore have been revisiting their mathematical knowledge and creating mathematical games!
Seedlings class
Seedlings class have been thinking about similarities and differences in each other. They have painted self portraits and considered how they look the same and different to each other.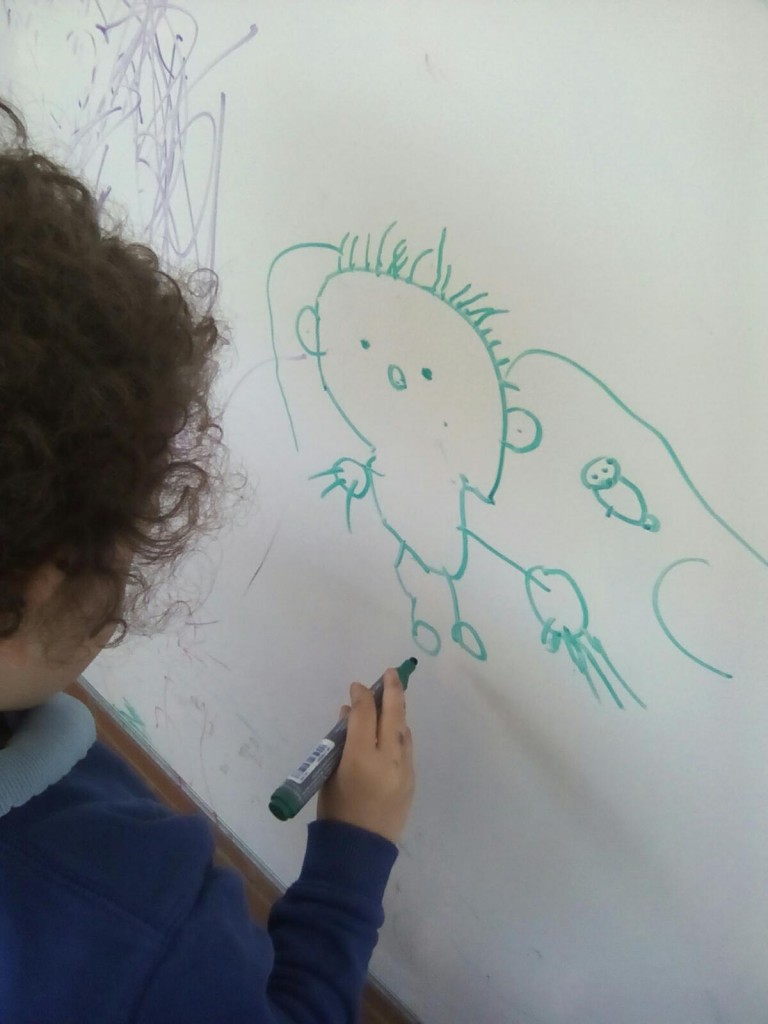 Award for Connor
Previous issues of Horizons Home Time have showcased some of the wonderful fundraising opportunities that pupils from all schools have undertaken. Connor from Mendham Primary School has won a special recognition award from South Norfolk Council following his fundraising efforts for Banham zoo this summer. He won a lovely glass trophy, certificate in a frame, £50 amazon voucher to spend on himself and £250 to send to a charity of his choice. Well done Connor!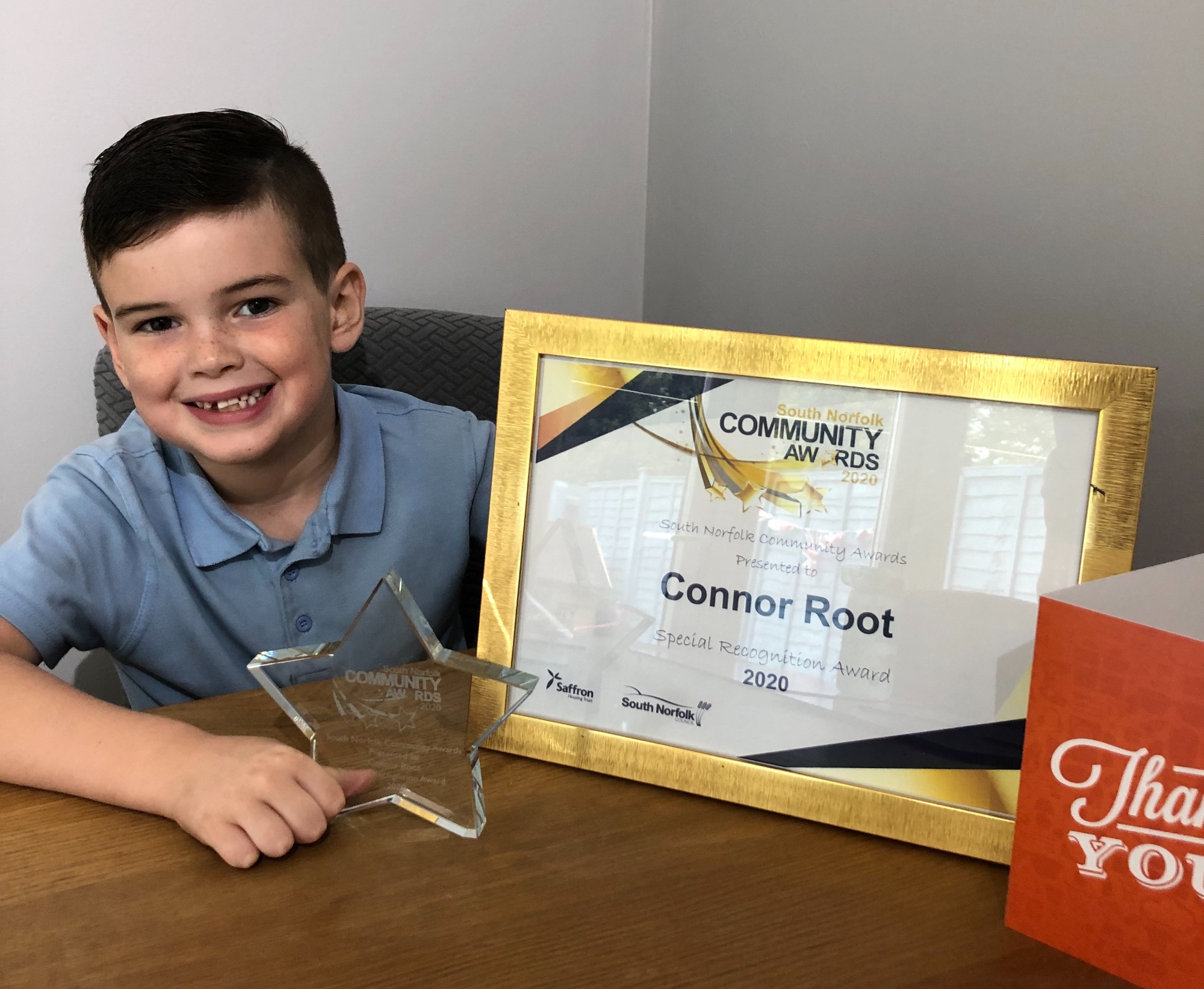 middleton
Ash Class
Ash Class has started the new academic year off with lots of activities. Here they are enjoying a lovely Autumn walk which felt like a Summer's day and the new reception children had to find the correct number of items using the number of the day.
Maple and Spruce Class
Maple and Spruce class are currently learning about Tudor Times; they have researched the clothing worn and have made paper dolls and outfits to suit this era. They have also started making Tudor houses which are a work in progress, we are looking forward to seeing the finished products.
RENDLESHAM
F.O.R.S Gazebo project
'Friends of Rendlesham School' have been fundraising for an outdoor classroom which has been completed over the last couple of weeks. The finished classroom is now ready for use and includes seating and a whiteboard. Staff and children are very excited to begin using this space and promote outdoor learning.
New Reception children
Our new Reception children have settled in brilliantly to school and have already been working so hard with their learning. The children created self-portraits on paper plates and talked about their feelings, likes and interests.
KS1 Strange Egg!
In KS1, a strange and mysterious egg suddenly appeared and the children have been investigating it very carefully!
They have seen some very sparkly footprints around the school and received an important letter from the King. Over the week, the egg began to hatch. We all came into school one day to find the egg broken open... but nothing was left inside!
ST EDMUNd's
Learning wall
A Great way to utilise space in our classrooms.
During the summer holidays we used the opportunity to freshen up our classrooms and have this learning wall installed in Beech class.
It has been a great space saver for the class with huge amounts of storage and work space for the class teacher Mr Russell to use.
Beech class is made up of our year 3 and 4 pupils and everyone was very excited to see their new classroom last week and we have been really impressed with their enthusiasm and hope they can keep it up.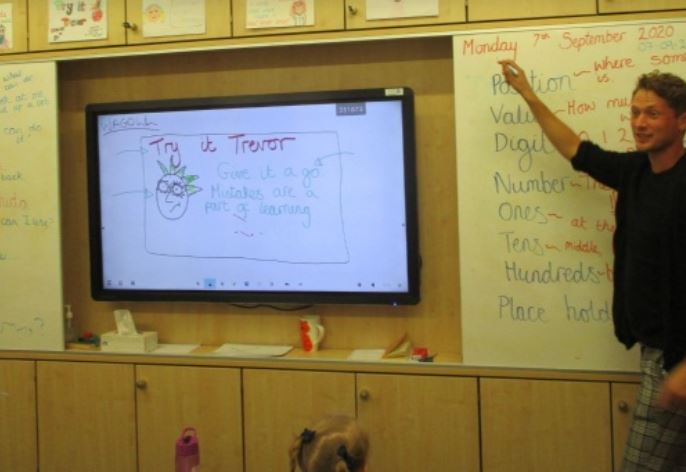 Meet our new Apprentice Miss Evans
Miss Evans has joined our Nursery and Reception Class this year and is studying her apprenticeship specialising in Early Years.
Prior to starting at St Edmunds, Claire has studied childcare at college and has been doing her placements at Mendham Primary School and may not be a new face to some of the children! Since a young age there has always been an interest for teaching and to be a part of the classroom and she has enjoyed her time with the younger pupils at St Eds and Mendham.
Miss Evans is a keen artist and baker and I am sure she will enjoy teaching our pupils the art of baking with some delicious cakes the children will enjoy brining home.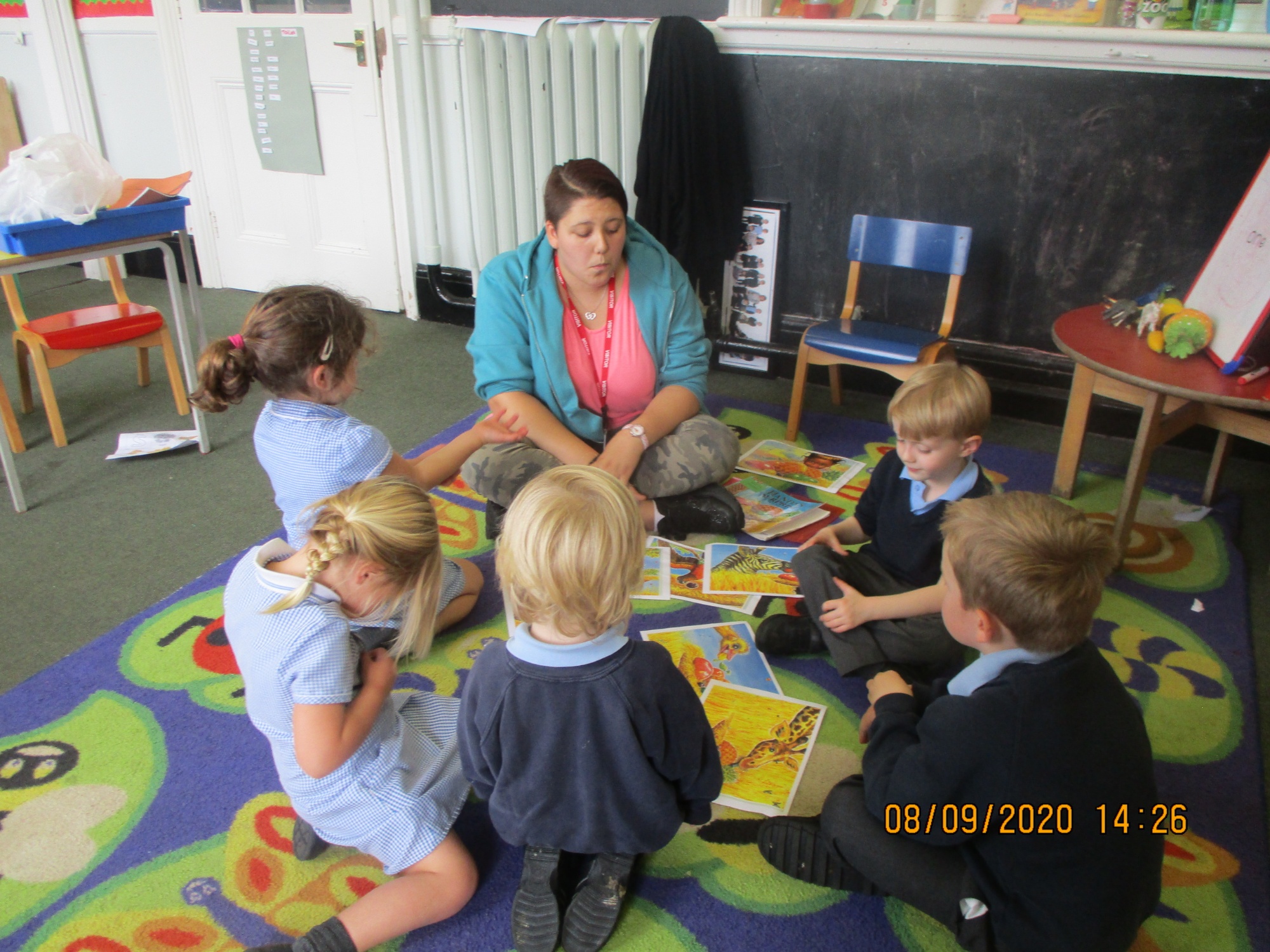 winterton
Starfish Class
It's been a busy start to the year for the Starfish Class. We have been finding out about the different feelings we experience and how these feelings might look on our faces. Using play dough that we mixed for ourselves, we made faces representing these emotions. This is Toby's grandad - he is happy because "he has a smiley face!"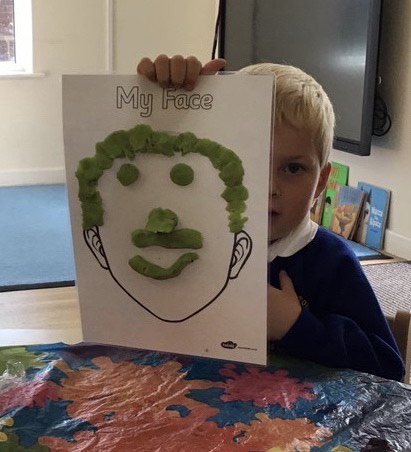 Seals Class
In history lessons we have been finding out about Florence Nightingale, we've listened to video information about her life and made a time line of important events. So far we have learnt about what she did when nursing soldiers in the Crimean war and how she improved the hygiene in hospitals, which helped patients recovery. We took part in some role play as nurses and soldiers and practised making splints with sticks and bandages which would have been used when rescuing soldiers with broken legs on the battlefield. Next week we will be looking at information books to find out more about how Florence influenced nursing in London's hospitals.
In science, we have been learning about the importance of keeping healthy by finding out how diet, exercise and hygiene can affect our health. We have explored why it is important to wash our hands properly by putting paint on one person's hands, to act as the germs, and seeing how far the germs spread when we used different things in the classroom. We then rubbed oil and mixed herbs (acting as the germs) into our hands and explored the importance of washing the different parts of our hands thoroughly for 20 seconds to ensure all the germs were removed. We also used black pepper in water to act as the germs and experimented with what would happen when we dropped different types of soap into the water. This week we will be becoming chefs and fitness instructors as we create our own menu and exercise class.
Sharks Class
Sharks have dived straight back into their learning this term! In art they have been studying Gaudi: they have learnt about his masterpiece La Sagrada Familia and designed stained glass patterns inspired by the cathedral's windows. In science, we have been exploring the concept of electricity and found out how electric current flows through the movement of electrons. We have also delved into the Ancient Mayan civilization and been racking our reasoning and problem solving brains in maths!