News from around our schools
barnby north cove
In Acorn class this week we have been counting things in our environment. We found lots of bugs and used a magnifying glass to count their legs and wings. Below is an example of how we recorded our findings by writing the numeral and drawing pictures.
In Oak Class we have been enjoying listening to and reading along with The Lighthouse Keeper's Lunch. Below is a drawing of Olivia's story map.
Willow Class have been diving into our guided reading with gleeful smiles as we read The Lion, The Witch and The Wardrobe. We love this book, it's been great fun so far and we have really enjoyed discussing little bits at a time. One task that we really enjoyed was creating our own chapter titles for the story so far. It was interesting to see how our opinion of Mr Tumnus changed when we found out he was the White Witch's kidnapper!
Chestnut Class have been busy in Science this term, we are learning about light: how it travels, how it reaches our eyes, etc. Recently, we carried out some investigations to prove that light does travel in straight lines.
gLEBELAND
There has been lots of historical learning at Glebeland this week and key stage 2 have been excited to begin their new enquiry.
Class 3 have been investigating early human life and how this compares to life now. Class 4 have written newspaper reports about the causes of world war 2.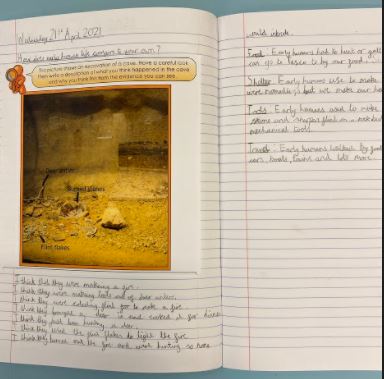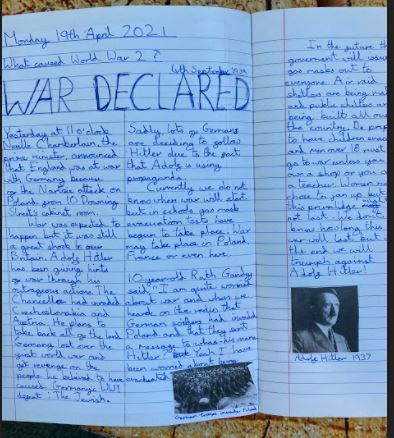 Helmingham
The Early Years children have been busy at Helmingham. We have been practising independent reading and writing outside, building rope bridges during our weekly woodland walk sessions, exploring with Beebots and exploring media and materials, experimenting and combining textures using paint adn getting messy! In Maths we have been using the interactive board to compare numbers and objects to 10. We have conducted our own census of our environment during census week. Just before Christmas we watched the online pantomine which was part of our Pupil Entitlement 'go to a theatre' during a pandemic!
Returning to school after lockdown, one of our daily wellbeing sessions was discussing how we feel, our emotions, anxieties and what we are looking forward to.
Woodpeckers Class are learning how fossils are made.
Otters and Woodpeckers classes (years 1,2, 3 and 4). During our Science week we enjoyed tackling lots of different challenges. For one activity we worked with a partner to create a bridge. The bridge had to be able to hold a small toy car, stretch across a gap of at least 20 cm and we could only use 6 sheets of A4 paper!
In art lessons, children have been developing their creativity by designing and making a story character using part of an egg box. Children needed to persevere, particularly with their cutting skills. They needed a step by step approach and considered how to develop and improve their work at each stage.

HENLEY
Science Week at Henley School saw the children inventing new ideas, making boats, bridges and rockets. Everyone enjoyed the chance to design,make, evaluate and improve their work.Rockets flew along the corridors,boats carrying cargo floated in the Class 1 water tray and bridged spanned tables in the classrooms.
We finished the week off with Henley Book Day where we saw characters from our favourite books roaming the corridor and playground!
KIRKLEY NURSERY & EARLY YEARS CENRE OF EXCELLENCE
Exploring flowers
Our curious Owls have been busy recently exploring bunches of flowers! Some of the children enjoyed mixing their own colours from the pump bottles and created beautiful representations of what they could see in front of them. The children experimented how to change the colours they had made to match the different shades seen on the petals- they made suggestions such as to add more white to achieve a lighter pink for example.
From another bunch, a group of Owls separated the white flowers, and submerged them in a mixture of food colouring and water. We cut the stems at an angle, and predicted what would happen to the flowers when we checked them later that afternoon, the next day, and next week. The children predicted that the petals would change colour, with one curious Owl commenting that "the stem will suck up all the colours!"
Outdoors, we laid down large sheets of paper and use natural resources such as sticks, leaves, and of course our remaining flowers, to create paintbrushes. Our Owls explored the different ways these brushes could be used, from using 'swiping' movements with the brushes with petals, pressing the larger flowers in to paint and dabbing them on to the paper, and using the brush with the thin stem attached as a pen to create marks and write. This activity helped to promote the children's fine motor skills, and by placing the paper on the floor, it has helped to develop core muscles too!
MENDHAM
In Acorns we have been learning about the recent passing of The Duke Of Edinburgh. We thought that Her Majesty The Queen would feel better after having a special card from us.
During Science Week children at Mendham looked at different continents Mark Beaumont travelled through. As a class we then discussed richer and poorer countries. We then looked at Africa as a continent and how children have to walk for clean water and compared this to our own experiences. We went on our own walk to collect dirt to make dirty water, then innovated, explored and experimented with our own water purifier.
We also made a volcano and learnt about gases and reactions. We then erupted the volcano using baking soda, vinegar and carbon dioxide.
Juniper Class investigating how to build the strongest bridge and how different surfaces affect distance travelled.
Seedlings class have used baskets to transport items across the classroom on their heads. In forest school we have ben walking the tightrope!
Mendham Primary took part in a writing competition during lockdown for Young Writers. Those that entered have been chosen to have their writing published by the company and will be released as a book! They created pieces of poetry on peculiar pets and some also wrote short stories.
MIDDLETON
In Ash Class the EYFS children have been counting reliably using objects and numbers to 15 , placing them in order and identifying which number is one more and one less than a given number.
RENDLESHAM
The reception children were inspired to try to draw using their feet having watched a video of a lady painting with her toes as she had no arms. The children thought this woman was amazing and wanted to try this too. They showed great perseverance and were pleased with some of the drawings they managed to accomplish.
SOUTHWOLD
National Day of Reflection
It was a good opportunity to take time on the 23rd of March to reflect back on the extraordinary year we have all experienced. At Southwold school we reflected on the people we needed to thank, the people we needed to remember and thought about the hope that the future is holding. We made flowers to represent our hope and made them into a heart hanging. We also made one for St. Barnabas care home, to let the elderly residents know we are still thinking about them. We held a minutes silence and listened to reflections written by our Head Boy and Girls.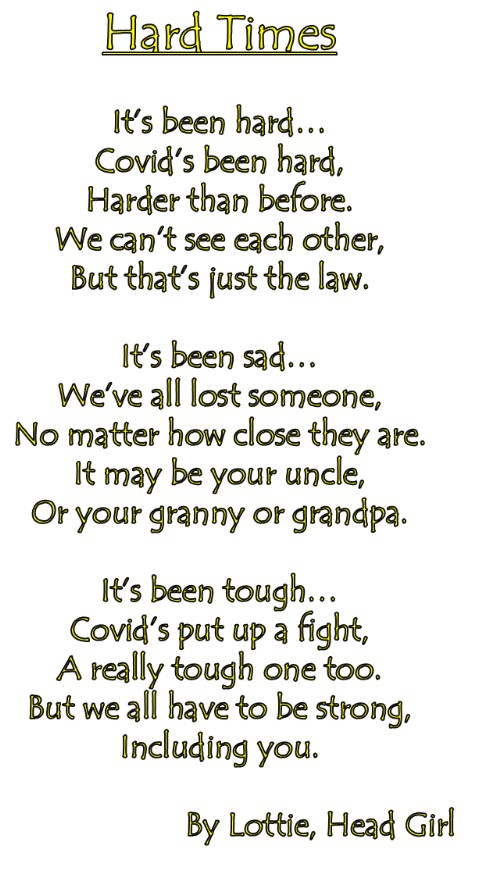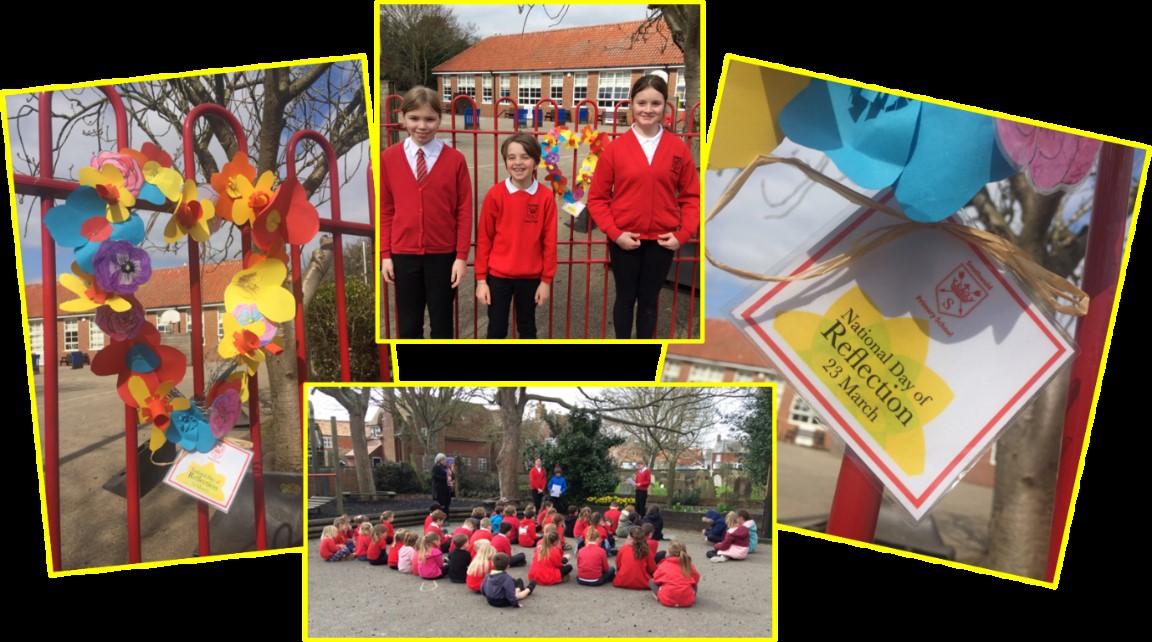 st edmund's
Mendham Primary and St Edmunds, Hoxne were busy participating in British Science week, 5 -14 March; the theme of the week was 'Innovation for the future' and the children had an opportunity to get stuck into some innovative and exciting science investigations. These included, creating powered vehicles, looking into forces and structures, materials and flight and purifying water! The week was based around STEM, Science, technology, engineering and maths.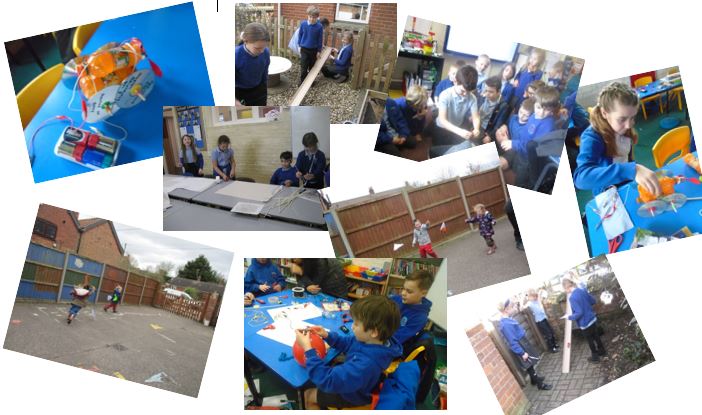 In Oak class we have been using pizzas and sweets to learn about fractions. We looked at a whole pizza and discussed how we could share it between our friends. We decided we could cut into halves or quarters. Whilst using the sweets we learnt that all groups had to be equal and shared out fairly to make a fraction.
The next day we made our own wrap pizzas and had to carefully place our toppings to show different fractions. We had to show halves, quarters and thirds.
Rowan Class have been on the playing field where we paced out a scale model of our solar system - where the Sun is the size of a bowling ball and the Earth a peppercorn. We had run out of room before we got to Saturn and could barely even see the Sun... This lead to many questions and discussion about space and time.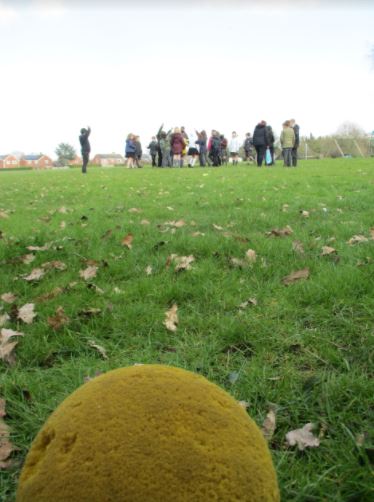 YOXFORD & PEASENHALL
Our topic this term has been Amazing Authors. Elm Class (Reception and Nursery) have been looking at the works of Beatrix Potter. After reading about Peter Rabbit they made this scarecrow of Mr McGregor as part of the Suffolk Library Scarecrow Trail.
We think he is too friendly to frighten any birds away but hopefully he has attracted the attention of lots of people as they pass the school.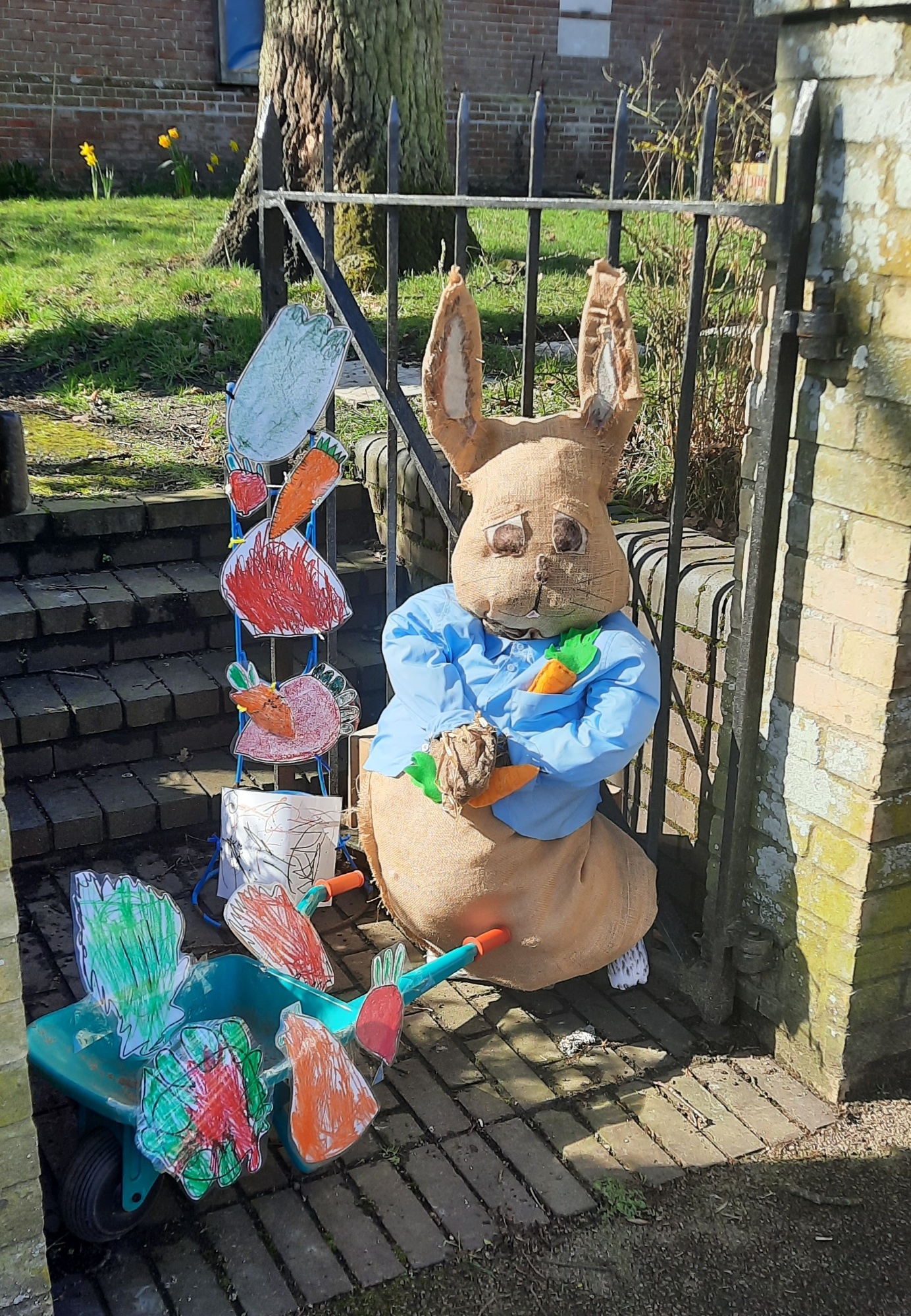 WINTERTON
Sharks had a super, scientific start to being back at school this week! They investigated what happens to chocolate when it is heated and cooled! We couldn't believe that chocolate could turn from a solid to a liquid and watched as it quickly turned back to a solid again (with the help of ice cream!).
Seal class we have celebrated World Book Day by sharing lots of stories in school and at home. We've snuggled up in quiet places around the school and listened to both adults and children reading stories. We've written book reviews to recommend good books and learnt how to write book blurbs. Our favourite books include "Gorilla" by Anthony Browne and "The World's worst children" by David Walliams.
The Starfish Class have been making the most of the spring sunshine and have been getting outside in the garden whenever they can. Not only have they enjoyed playing outside and having their snack time in the garden; they have also been busy weeding and clearing the planters, ready to grow some vegetables. Over the last few weeks, they have planted potatoes and broad beans, as well as sown carrots, radishes and runner beans. The children have explored how and why seeds grow and what they need to grow into big strong plants which will hopefully produce lots of delicious vegetables. Welly Wednesday has become well established and the children know it's their day to put their wellies on and get out into the garden!