News from around our schools
barnby north cove & glebeland
Budding Musicians!
At Glebeland Primary and Barnby & North Cove we celebrated the achievements of some of our budding musicians; all passed their exams with Distinctions! We are very proud.
Introductory: Laurence Dougherty
Higher: Maxim Dougherty
Aurelia Shaffer
Martin Molnar
The Pupil Parliament Teams are working hard at Glebeland and Barnby & North Cover with their community projects.
At Barnby & North Cove, they are raising money for a defibrillator to be placed at the school for community use. Below are some of the cakes submitted for the 'Great Barnby Bake-off' fundraiser.

At Glebeland, the pupils have been donating their empty crisp packets to The Art Shack where they will be turned into survival blankets for the homeless. If you would like more information please click on the link below: https://crisppacketproject.com/
The Front Garden at Barnby & North Cove Primary
We would like to say thank you to our PTA, parents and members of our wider community who have contributed to the development of our front garden. Our children are becoming horticulturalists and attending to their vegetable patches and flower gardens. The venture was ignited by our 'Bee Day' where our pupils dressed as Bees and considered how we need to nurture our environment to support our declining bee population.
I am sure that you will agree that it is looking fabulous (we even have our very own fairy garden).
HELMINGHAM
'Operation Transformation' took place in the week before half term at Helmingham. The children were educated outside in a marquee for the week while school staff and members of the central team were hard at work transforming the school into a more exciting learning environment.
While the work is not totally finished, the children have been really excited to learn in the school's new welcoming and calming atmosphere. Take a look at some 'before' and 'after' pictures.
As part of our work to enhance understanding of our Learning Threads we have enjoyed working with other year groups on a range of outdoor activities, including making bird feeders, butterfly feeders and scarecrows.
HENLEY
kIRKLEY NURSERY
Shaving foam Cup cakes
The squirrels had lots of fun exploring the shaving foam together. They used cupcake cups to put the shaving foam in and used glitter and sequins to decorate. The words used during this activity were ' sticky', 'cake', 'looks like a lolly' and 'wow!'
Some of the squirrels realised that if you clap your hands together with shaving foam on that it creates 'snow'. Lots of fun had by all!
Experiment
This afternoon the Owls excitedly requested that they would like to see an experiment. We got some ziplock bags and some very sharp pencils. When asked what would happen when I pushed the sharp pencil in to the bag, the Owls predicted that it would explode and water would go everywhere! The children were amazed when, instead, the pencils went straight through the bag like magic! Wow!
The Hedgehogs have busy exploring paint with their feet, Steph tickled their feet with the paintbrush and then helped them to place their feet on the paper making marks. They had lots of fun doing this for their new black and white display. One of the hedgehogs said "tickle" pointing to their feet wanting to do more.
MENDHAM
EYFS pupils using the new Traversing Forest.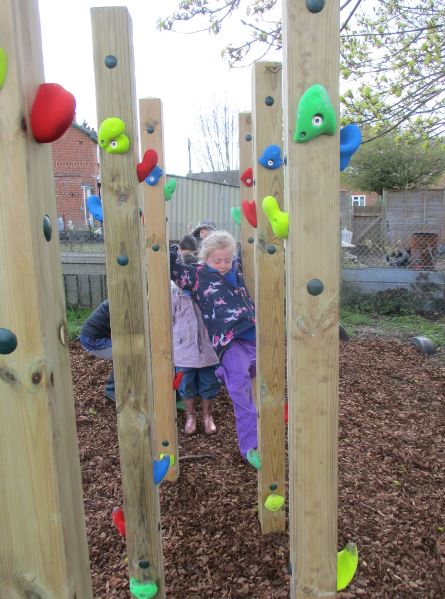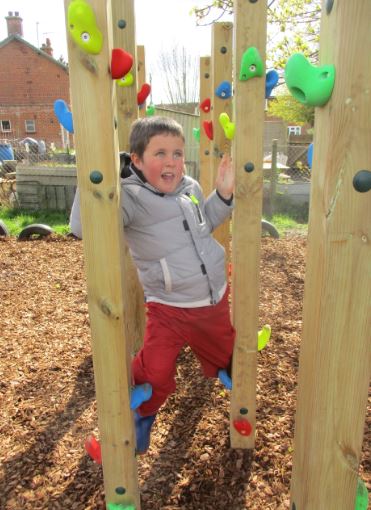 EYFS have been learning about worms, everything from observing, measuring them, looking at what they eat to building our own wormeries and filling a class one.
Juniper Class have been learning about Sikhism in RE. The photos are of when we turned the classroom into a Gurdwara, complete with Langar kitchen where we tried dhal, vegetable curry and chapatis!
MIDDLETON
In October KS2's topic is Tudors, they have been learning all about the clothing, houses, work etc. The children have made paper dolls and clothes and are now making Tudor houses. Looking forward to seeing the finished products. Ash Class have had a great start to the new academic year. With our new Reception children joining us they have all been hard at work, with a little bit of fun included.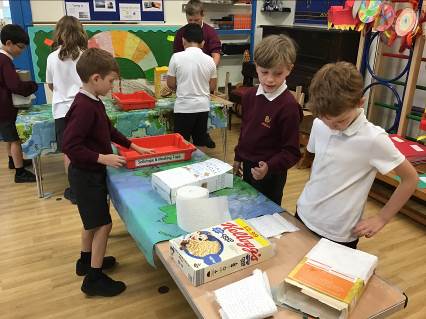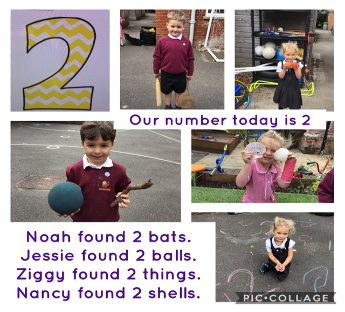 In November the School Council decided on a pyjama day for Children In Need this year. As you can see the children look very comfortable and we raised £43.50. Ash class have been researching inspirational people and in particular the life of Beatrix potter. We have created a timeline to show significant moments of her life and we will use this knowledge to write fact files next week.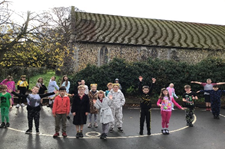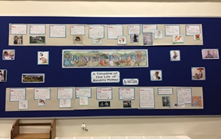 In December in Science, our Year 5 and 6s have been investigating materials and states of matter. We visited a crime scene and solved the mysteries of what happens to plastic when it is melted and sugar when it is burned. Controlling our variables, ice-cubes have also been melting at different rates due to their various thermal insulators and hot coloured water has been distilled to pure and colourless. Meanwhile an egg's shell has happily dissolved in acid and a mixture of measured, melted and combined solids and liquids created a delicious irreversible change: flapjacks. Ash class rehearsals are going well for their Nativity "Away in a Manger". The performance will be ready to watch on Google Classroom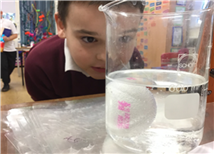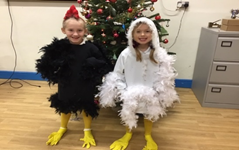 The New Year began with another lockdown but all the children took it in their stride and their work ethics were amazing some worked from home and others within school. Today the EYFS children wrote their first sentences dictated by Miss Ball some learning in the classroom and some learning on a "live" video call. In KS2 English at the moment we are reading the book Phoenix by SF Said. The children have been using lots of inference and prediction skills to understand the character Lucky and how he is feeling. In today's lesson, they had to imagine they were Lucky in a dream and write about what they could see, hear and feel. This is George's example.
'The stars were all around him now. Singing at him like a great big choir. Lucky looked down at himself, he quickly noticed he was covered in blinding plasma just as if he was becoming a star. Memories of mum were dancing in his head. He didn't know why .Quicker than what he could think, these wonderful memories vanished into the pits of his mind. Lucky felt a blazing heat behind him getting stronger. He felt himself being submerged in more plasma as he rapidly woke up.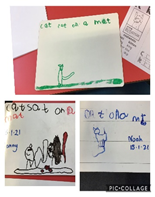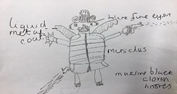 In February we took part in the mental health for children week with some brilliant artwork being produced and reminders that we need to recycle to save the planet.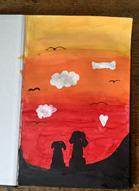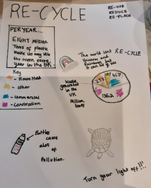 In March we took time to reflect on the previous year. All the children took the time to design and paint a ceramic heart as part of the national reflection day. I think you will agree the finished products are lovely and a few have found their way to some special homes around the village and beyond.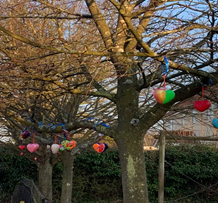 Now starting the Summer Term with some outdoor work Ash class learnt what healthy plants need to grow. Over the Easter break we chitted potatoes in our classroom and when we arrived back to school the children were excited to see that the potatoes had sprouted! We planted the potatoes in compost in the raised beds and a dustbin in our outside area and all the children could tell me that plants need water, warmth, food and light!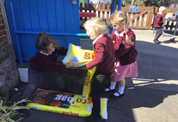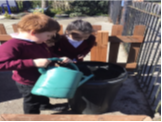 In May we rounded off the Summer term 1 with dancing and exploring South America.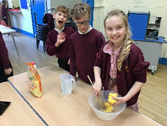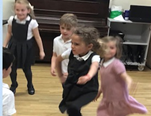 RENDLESHAM
The children in Reception have been looking at the signs of Spring and as part of this they were investigating and learning about the lifecycle of a butterfly. As part of their learning, the children reflected on their work and tried to make improvements. We also talked about determination and resilience and how it felt to complete an activity that might have been more difficult or time intensive.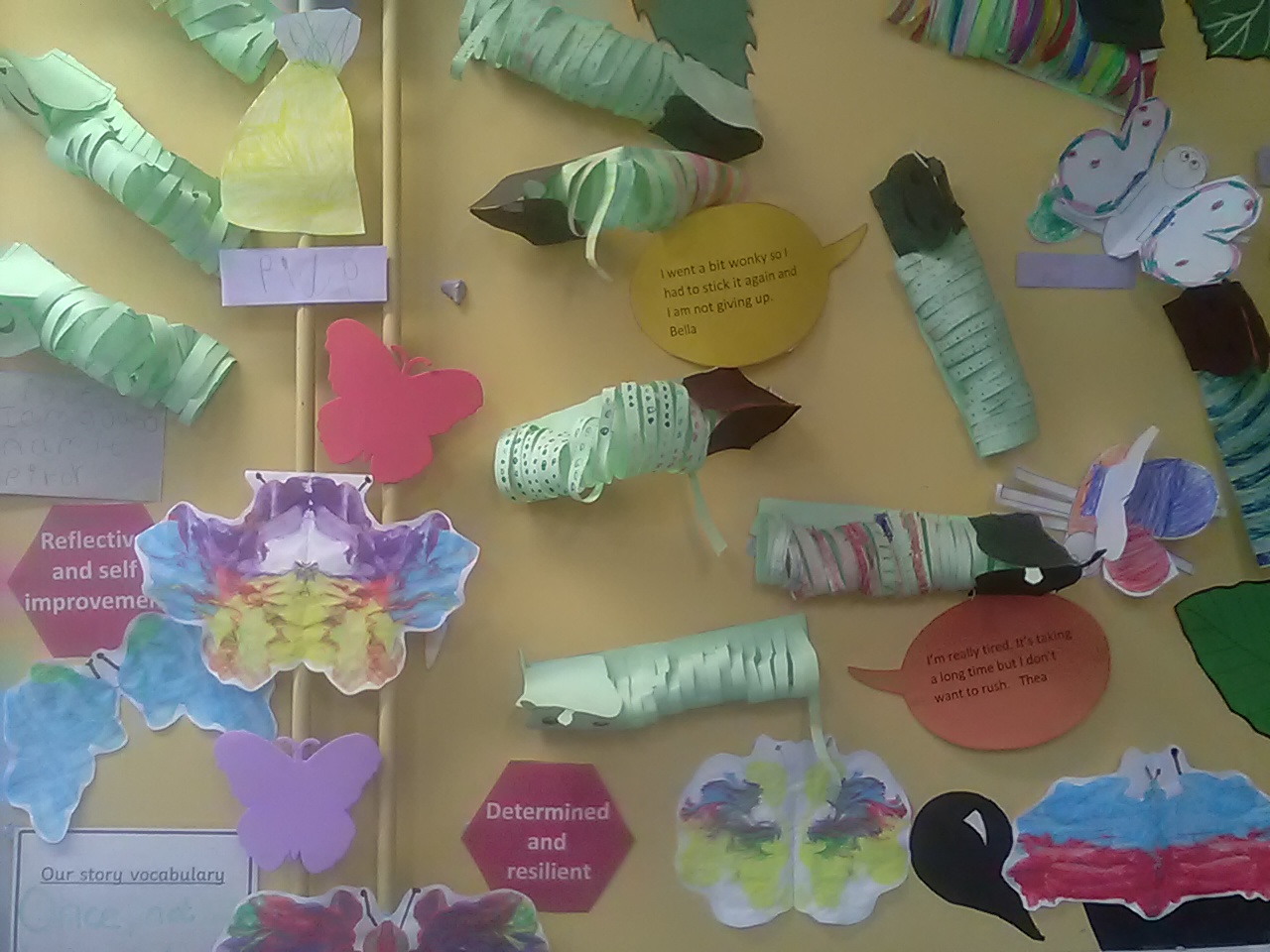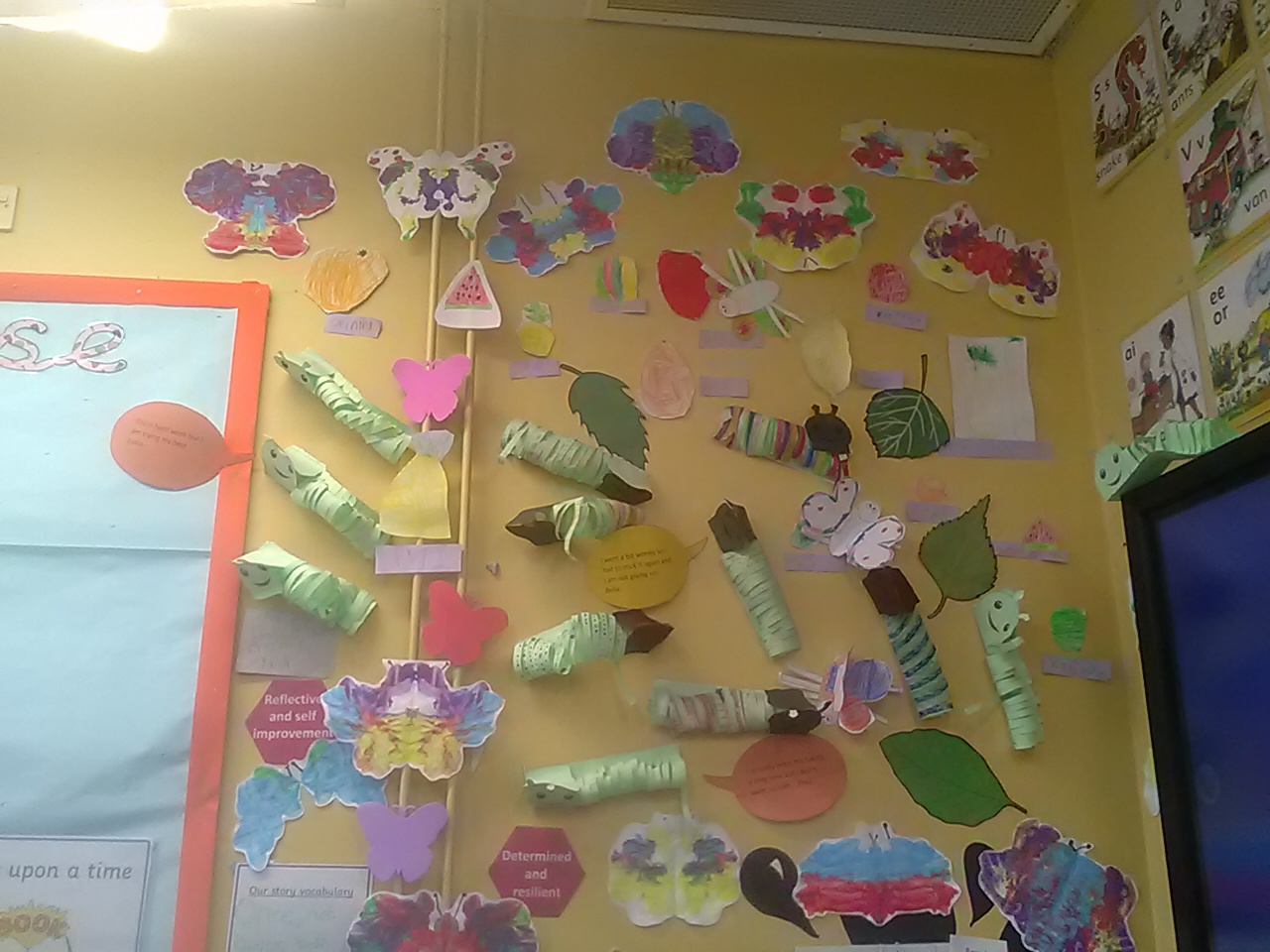 Key Stage One have been writing invitations to Queen Elizabeth! On the 8th of July we are hosting our very own Royal Tea Party and would really love it if Her Majesty The Queen could come. We are sending our invitations off to Buckingham Palace very shortly and have our fingers crossed for a VIP guest at our Tea Party!
Here are some letters written and received by Jack Rose one of our Yr 6 students. Jack wrote this letter during lockdown and then received a wonderful reply. He was really excited when he saw the letter that Ms Coffey sent him. The school are going to contact the Parish Council on Jack's behalf.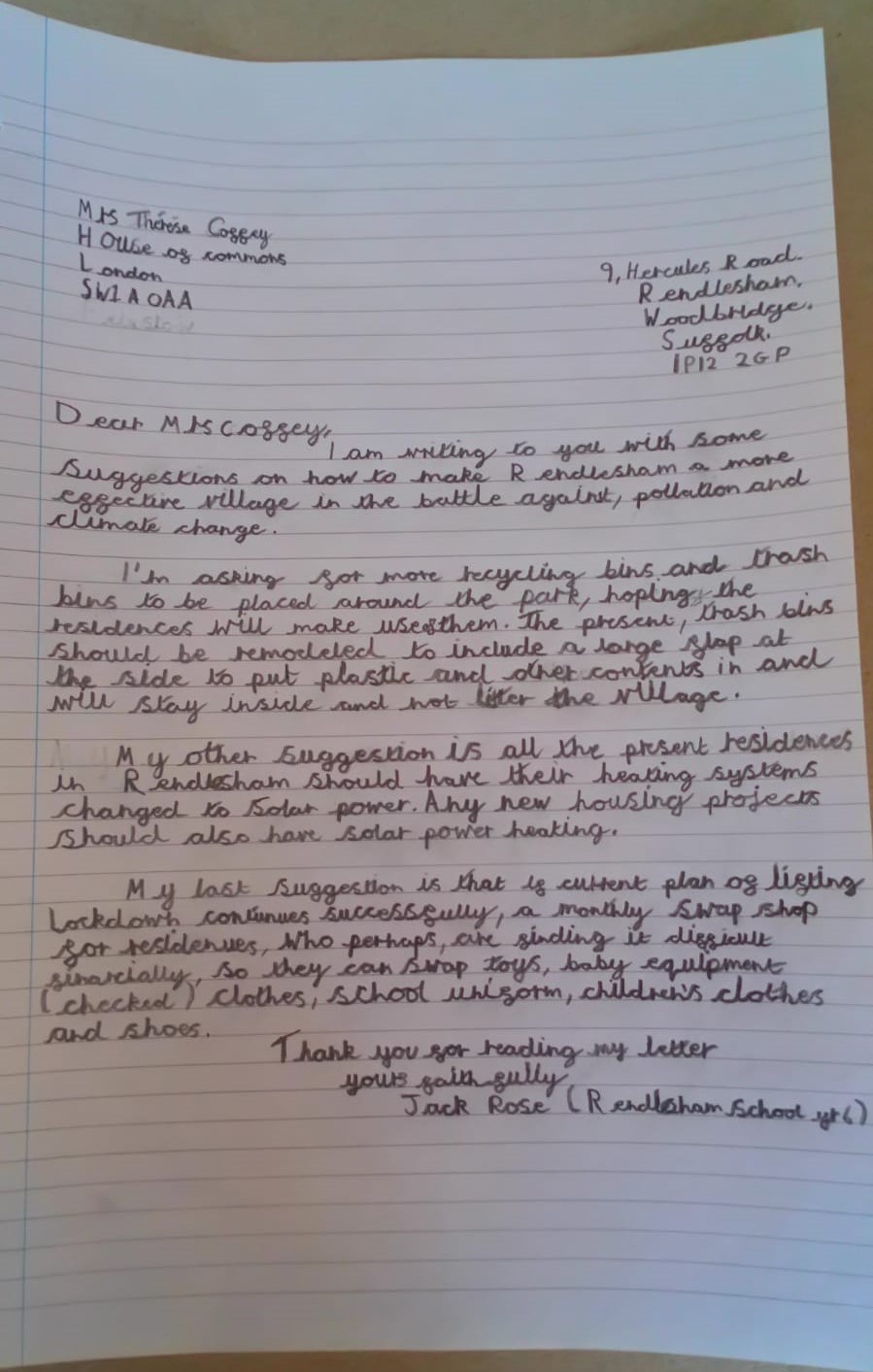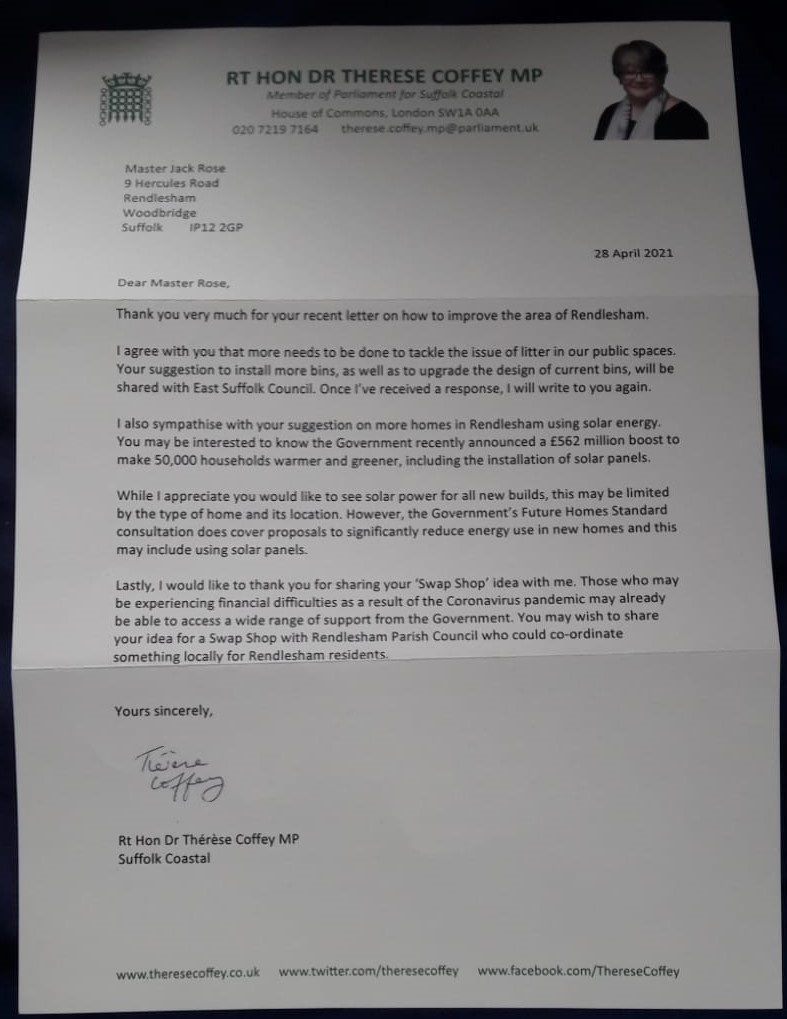 Standing desks
The children have been sharing these standing desk for the past two weeks. They have really enjoyed using them. They have been really useful for those children that get fidgety when sitting and have helped them to concentrate a bit better.
SOUTHWOLD
Let's look back and reflect on the year…
As we move to the last few weeks of term it has been a god opportunity to reflect back on this last academic year, and whilst we acknowledge that once again, perhaps it has been a year fraught with challenge we still have plenty to celebrate at Southwold.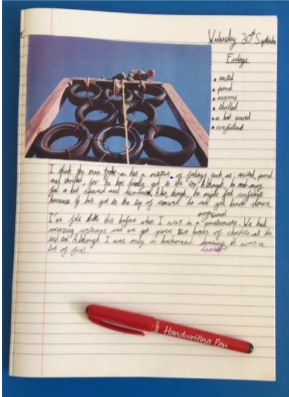 September saw everyone eager to return to school - children were keen and eager to resume their learning and enjoyed getting back into the swing of things. As a Hub we introduced Writing Journals with this new term. Writing Journals have given pupils the opportunity to write for pleasure, extending their writing skills developed in the more formal literacy lesson. We have seen a huge impact on the quality and quantity of writing our pupils are producing right from our littlest to our oldest. One Year 6 summed up the importance of Writing Journals perfectly – "I wonder at home about my next picture for my writing journal, I love my writing journal it fuels my imagination and then I have more ideas in my other Literacy lessons."
In October we were so lucky to receive a grant from the Ernest Cook Trust that allowed us to buy new rainwear for outdoor play and learning – and now there really is no such thing as wet play just inapporopriate clothing!
Although our country and indeed the world began to struggle again in terms of Covid, we still took time to remember as a school the significance of the 11th of 11th. We were not able to join the rest of our Southwold community in remembering, but we were able to hold our own small act of remembrance led by our Head Boy and Girls.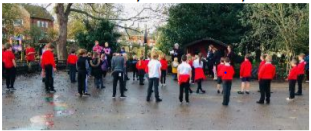 Christmas was different for everyone, but at Southwold we tried hard to keep some of our lovely traditions. KS1 and EYFS entertained everyone with their Christmas performance and KS2 produced a virtual carol service – a new experience for everybody! Christmas lunch was enjoyed by all and the decorating of the tree just as special.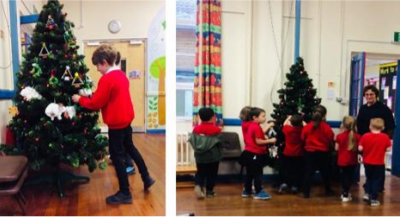 January saw yet another lockdown, but we were very happy to introduce our new virtual on-line learning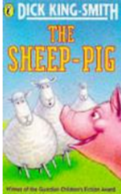 experience which saw all our students join us on our 'Google Classroom' learning platforms daily. This new style of teaching and learning was very much a learning curve for everybody, but WOW what an experience it was. It was refreshing to be able to see all our students daily and maintain the enjoyment of learning during this difficult time. Certainly a highlight was being able to join Ms Cashell from home by the pupils who were able to attend school for daily story sessions – everybody enjoyed.
In March we were so pleased to be able to open our doors to everybody again – and what better way to celebrate this than with celebrating work of some amazing authors. EYFS celebrated the work of Michael Rosen and even retold the story of 'We're going on a bear hunt' using buns that they had baked.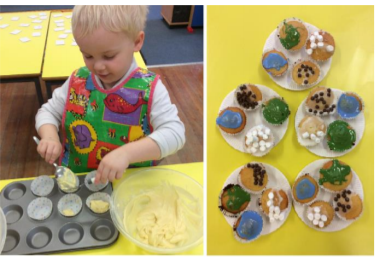 Meanwhile, our Key Stage 1 children just loved 'Room on the Broom' by Julia Donaldson and made their own broomsticks and story characters.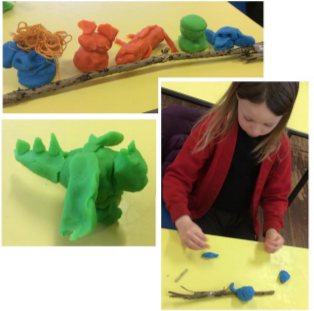 We were delighted to have been awarded a grant from the Adnams Community Trust in April that has allowed us to purchase some new play equipment for our Early Years Playground. The 'Get, Set, Go blocks' will allow our children to climb, jump and build different courses and we are eagerly awaiting their arrival in the summer term.
Our extended schools provision has grown from strength to strength during this last term seeing more and more children sign up for the exciting opportunities we are offering. Beach Club is proving really popular…
We are looking forward to the adventures the next few weeks have in store. We have a lot to do to make these last weeks really special for our three Year 6s who really have had a very strange year again. But with so much planned and organised it is guaranteed that this time will be special for them and all in our school community.
WINTERTON
In Starfish Class, our topic for this half-term has been 'How does your garden grow?' This has incorporated learning about what plants need to grow and thinking about how the weather affects plant growth. We enjoyed going on a plant scavenger hunt within the school grounds and then used what we found to make our own miniature gardens. We have also been busy filling our new courtyard planters with a range of different plants, including sunflowers, to brighten up the entrance to our school. We have started to enjoy the produce from our plants and we enjoyed trying our homegrown radishes with our frog-shape dip that we made last week. We also enjoyed using real seeds that we got from fruits and dried beans to help us with our counting and addition.
Mrs King popped back to see us a few weeks ago, with some frogspawn and tadpoles from the pond in her garden. This inspired us to learn about the life cycle of a frog and from this and we created our own frog life cycle books, built our own temporary pond in the garden, created collaged ponds and made clay frogs to sit on them, and finally we looked at Monet's Water Lilies painting and recreated our own version. We also enjoyed making an edible life cycle using grapes, raisins, spinach and green apples. We are still patiently waiting for our tadpoles to grow legs and turn into froglets.
As we had looked at the life cycle of a frog, we then compared this to the life cycle of a butterfly. We found caterpillars in our garden and made symmetrical butterfly wings. We also used spotty butterflies to learn how to double numbers and to help us represent number sentences. Next week, we are looking forward to finishing our topic by learning about bees and why they are so important in helping plants to grow.
In Seal Class this half term, we have been learning how to write information texts and have created our own Winterton Guidebook for the children visiting our new Field Study Centre to find out more about Winterton. We enjoyed learning about the adders, grey seals, natterjack toads and little terns, all of which are found in Winterton. In English, we have also been learning how to write explanation texts and we are currently explaining why dinosaurs became extinct, which links well with our end of year trip to the ROARR! Dinosaur Adventure Park.
In history, we have been finding out about Mary Anning, a palaeontologist, who discovered the Icthyosaur skeleton in Lyme Regis in Devon. We created a human timeline of her life to find out about the key events and we then used this to make a Mary Anning fact file. We looked at her qualities as a person and who the important people were in her life. Finally, we created ammonite fossils from clay and next week we will become archeologists and discover our fossils in the sandpit.
During our science lessons, we have been investigating what conditions plants grow best in so we planted some wildflower seeds and placed them in different locations around the school to see which would grow best, both with and without water. We were surprised to see that shoots started to grow even in the dark without any light at all, however these plants looked a very pale green whereas the ones in the sunlight had much darker green stems and leaves. Our experiment proved that plants cannot grow without water, as the seeds without water did not germinate and there were not any visible shoots.
In PE, we have been learning the basics of cricket which has included learning how to bowl using an underarm throw and how to return the ball with the bat. The children have demonstrated some excellent skills and have shown some fantastic underarm bowling and some spectacular batting. We are also completing some yoga as part of the Cosmic Kids yoga quest.
Sharks have been learning about the Victorian artist William Morris. We have been inspired by his floral patterns which were often found in textiles and wallpaper during the Victorian era. Following observational drawings of real flowers, the children have been experimenting with designing their own Morris-style pattern and using tracing paper to create symmetrical designs.
yoxford & peasenhall
Oak class discovered that there had been a visitor in school over night! We have been working hard as detectives using all our observation skills from the year to work out who caused them. We created wanted posters asking for help from the local community.
Willow Class have been working on their chocolate bar project linking their Design and Technology skills to their topic work on Ancient Maya. Each child designed and created their own chocolate bar and very much enjoyed eating their final product too!