News from around our schools
BARNBY NORTH COVE
A mix of year groups have participated in outdoor learning sessions at Barnby & North Cove and Glebeland.
They have all been learning and getting to know their environment this term. How we care for it, how we can use it to enhance our learning & understanding and how it can provide resources for us to use and utilise.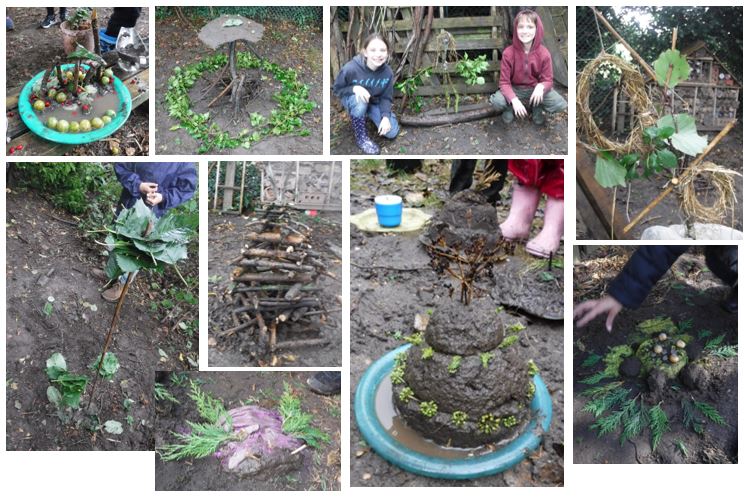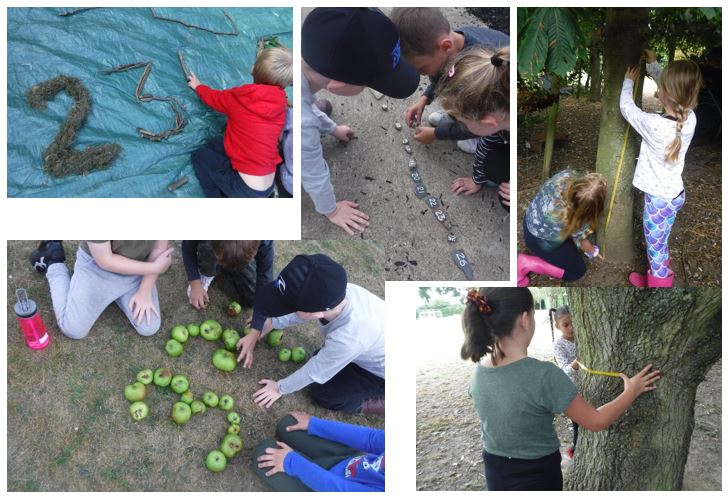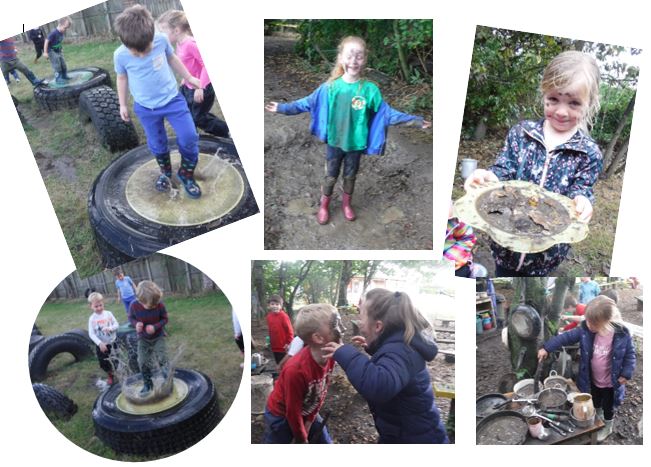 In Acorn class we have been learning about the changes we can see during Autumn Time. On our Autumn walk we found lots of fallen eating and cooking apples. We counted, weighed, rolled the apples and eventually made the apples into apple crumble. We used lots of new vocabulary as we chopped, sliced, stirred and sprinkled the ingredients.
We also found out that Harvest time is during Autumn. We know that harvest is an important time for farmers to gather their crops. The children explored our vegetable patch, with the help of our class pets, and found some potatoes, runner beans and a small carrot. The children discussed what they could make with the potatoes and decided they wanted to make chips. We found out that chips are made from potatoes in the story of Oliver's Vegetables.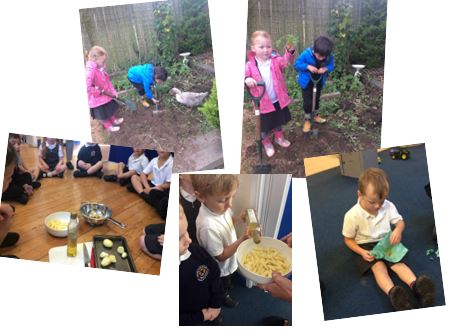 GLEBELAND
Talk For Writing has had a fresh launch at Glebeland Primary. All Pupils have immersed themselves in core text enabling them to imitate the language they need for a particular topic orally, before reading, analysing and then writing their own version.
Eyfs' core text of 'Little red hen' began with a creative hook involving the pupils in making their own bread, understanding the ingredients to use and how we can help each other us to create an amazing finished product.
Glebeland's pupils have been proud to demonstrate their excellence in performing their innovated core text to peers, staff and at home to parents.
As we now move into the independent application and invention stage we look forward to reading pupils imaginative, creative stories, demonstrating how they have developed into effective writers.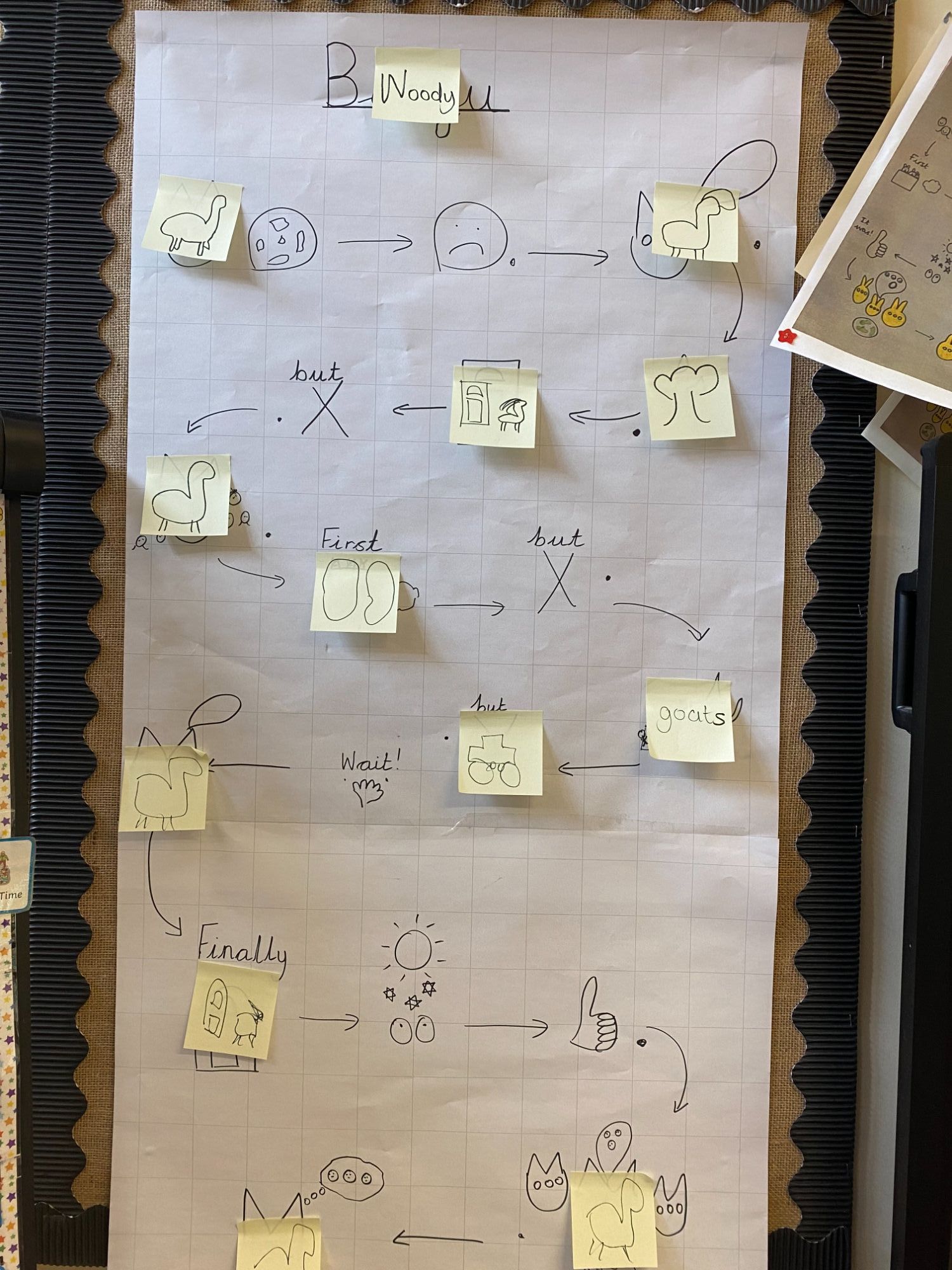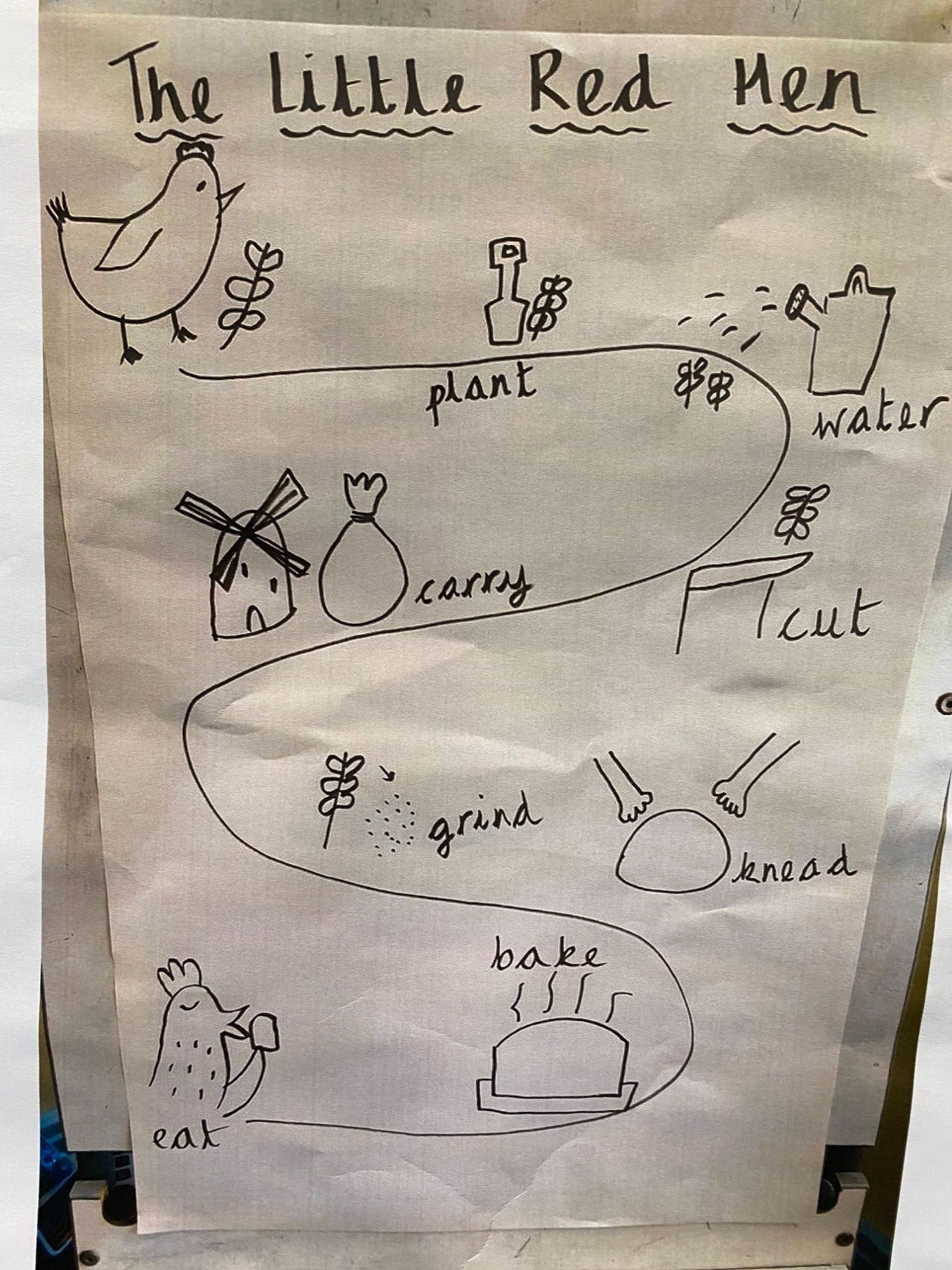 HELMINGHAM
As part of our learning about Planet Earth, Eagles class has been using their knowledge and skills to make these two models. As you can see, the Earth is very heavy!
Foxes class have been learning the story Owl Babies in English and during art we painted these wonderful paintings.
HENLEY
Class 1 at Henley have been learning to retell the story of We're Going on a Bear Hunt. We've gone on our bear hunt, make crafts to help tell the story and received a letter from the bear. Next week we are planning to write our own letters to the bear and make up our own version of the story.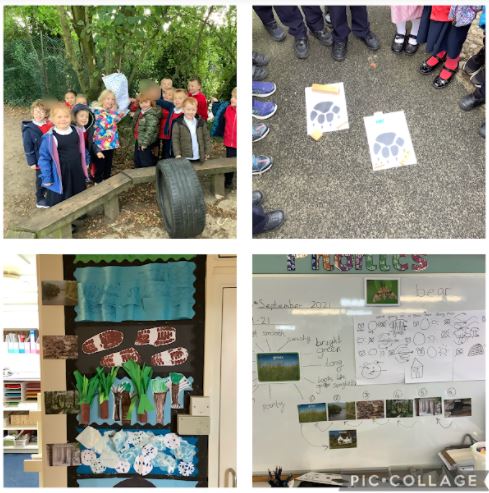 Class 2 went on a trip to the Ipswich Transport Museum and in English they wrote some thank you letters after their visit.
Class 3 have been learning about the Ancient Maya.We each made a tortilla by mixing flour, salt and water together and then frying the flattened dough.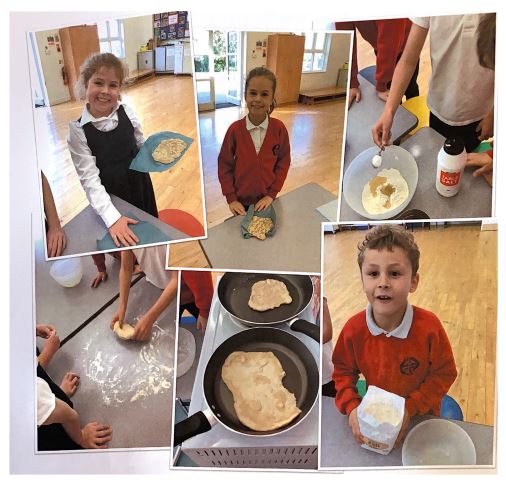 Class 4's topic this term is Tudors. We had a debate about whether King Henry VIII was a good monarch or not. The children formed a jury, defence and prosecution and were able to cross examine three key eye witnesses.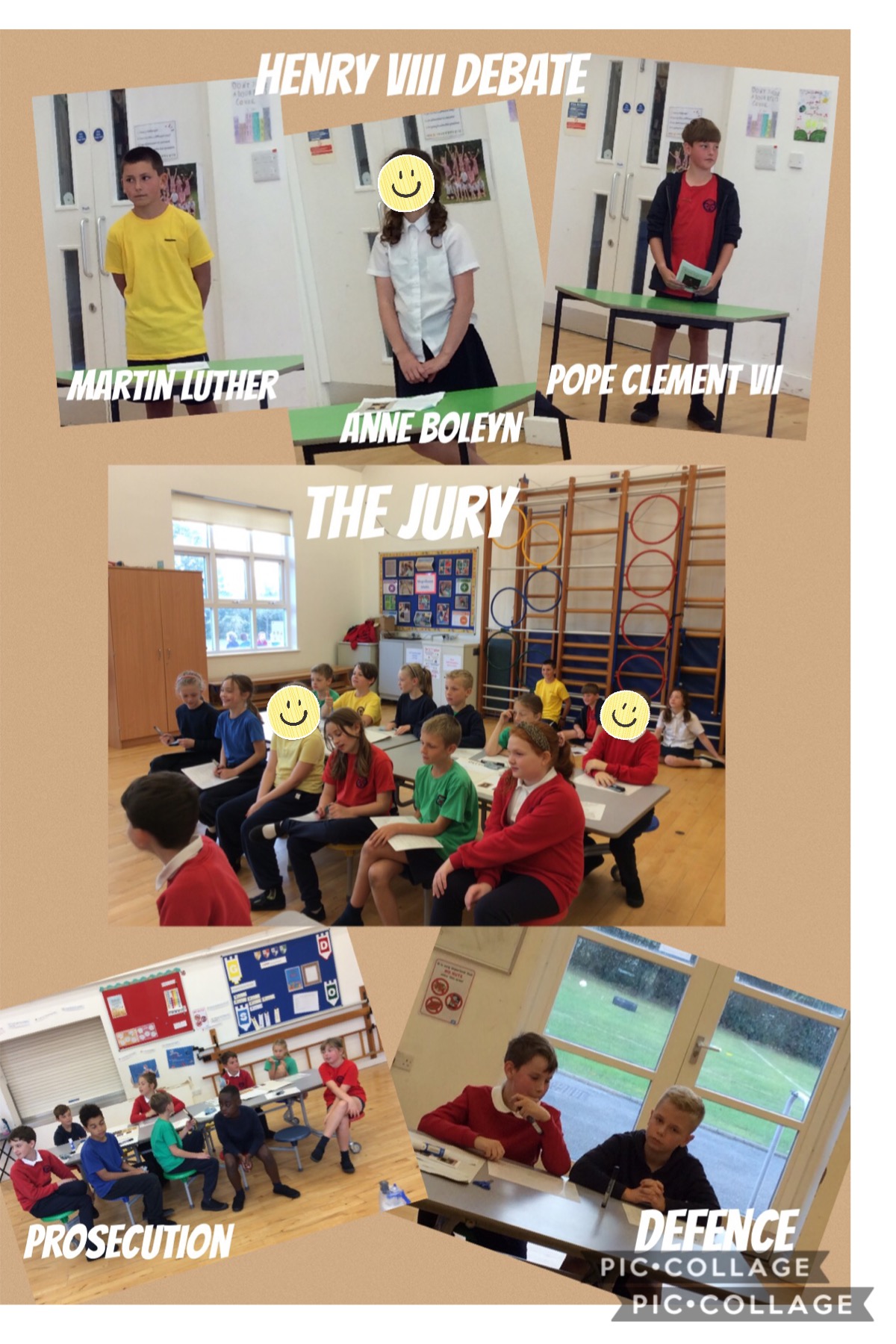 kIRKLEY NURSERY
The Owls have been busy baking shortbread, meditating, painting by music, lavender sensory playdough, nature walk, loose parts construction and outdoor joint play.
It's been just over a year now since we were handed the keys to the building to Kirkley Nursery and initially we were frantically pulling staples out of walls and filling dozens of skips! The decorators were booked and everything had to be cleared ready for their week of painting. You can see from this photo, the previous nursery had closed at very short notice and everything was left for us to clear.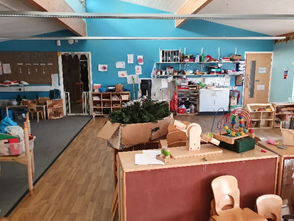 It really has been quite a journey of improvement thanks to our Curiosity Approach training. Can you believe this is the same room? As well as developing our Early Years Curriculum, we have been focusing on loose parts and using open-ended resources to inspire children's creativity.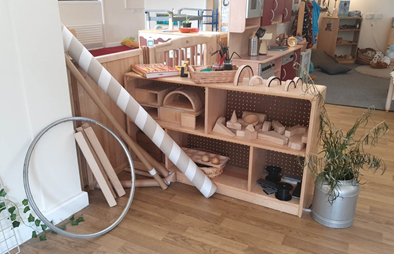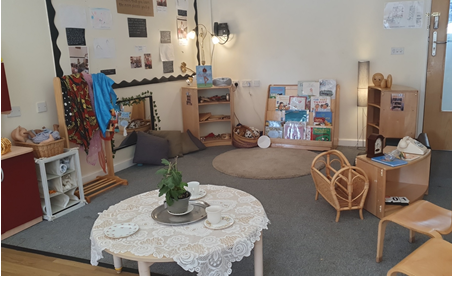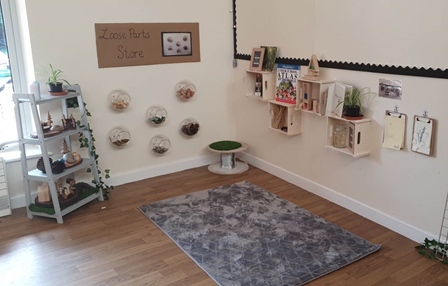 MENDHAM
We have been learning a great deal in Juniper Class, place value in maths, persuasive writing in literacy, sea shanties in music and all about Dunwich in our topic lessons. Did you know that Dunwich used to be as big as London before being lost to the sea in the 13th and 14th centuries? We will be visiting Dunwich on 15th October to learn all about it from the museum and historic sites.
In science we have been writing our own classification keys. Some examples of our leaf classifications are below...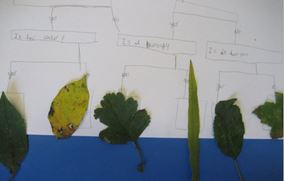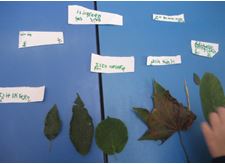 In Seedlings class we have been using the books 'The colour Monster' and 'Owl Babies' to help settle into school.
We had a fabulous day visiting the Owl Sanctuary at Stonham Aspal, meeting the owls and animals and watching a flying display. The children were all fabulously well behaved and polite. Staff could not have been prouder of them all. Plus our knowledge of owls is now amazing. Did you know that some owls have their ears near their eyes, one above and one below an eye to help make their senses even keener!
In science we have been learning about the human body and investigating our senses. We used our different senses practically and matched them to the body parts we were using.
Sycamore class have been looking at how different cultures represent the human form in art. We have researched and appreciated different sculptures from around the world and have been using clay as a medium to create our own sculptures based upon our learning. We will be moving onto to creating wire sculptures next!
MIDDLETON
As part of our learning on Humankind we have been answering the question, How do different cultures represent human form? We are also learning about land use in geography and as we live in a very rural area, we looked at how we have used scarecrows throughout history to protect our crops. Here are some of our scarecrows in the making.
RENDLESHAM
Rendlesham Revealed https://heritage.suffolk.gov.uk/rendlesham
In 2018 Rendlesham Primary School was invited to be involved in an exciting archaeological project known as Rendlesham Revealed.
This community archaeology project, taking place from 2020-2024, will explore the irreplaceable archaeology of the Deben valley. It follows on from a project undertaken at Rendlesham in 2008-2017, which uncovered evidence of the Anglo-Saxon royal settlement. This settlement first, recorded by Bede in the 8th Century, is where East Anglian kings would have stayed, feasted their followers, administered justice, and collected dues and tribute.
The Rendlesham Revealed project has allowed local people to directly participate with opportunities for volunteering and training in on-site archaeological survey and excavation, which will take place at Rendlesham and elsewhere in the Deben valley.
The school have had opportunities to work with Suffolk County Councils Senior Archaeologists and also Professors from a number of universities.
At the beginning of September, our Year Three children were taken across three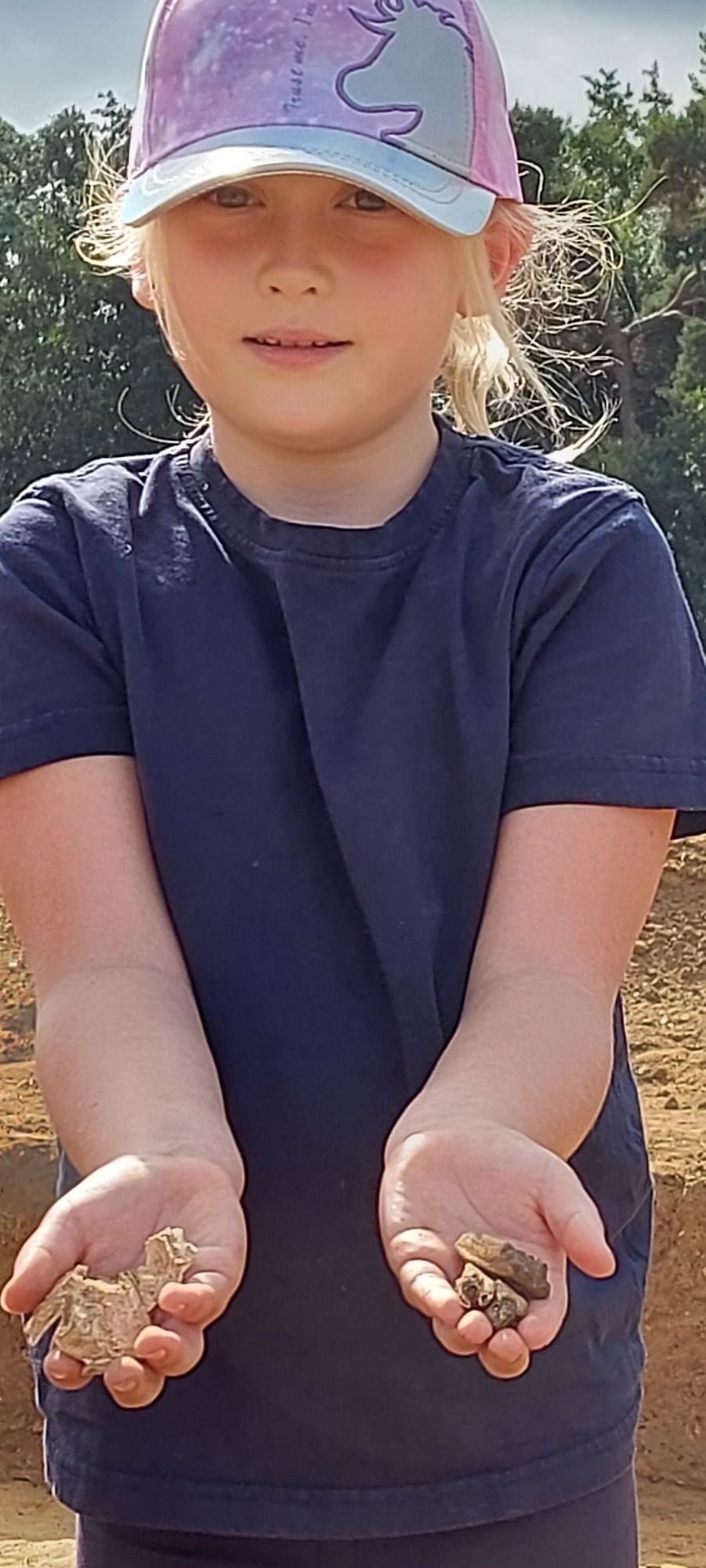 separate days to the site and given the chance to take part in the excavation of pits of the Anglo Saxon houses. They worked with the archaeologists to learn how to use the same tools as the professionals to do the excavating; the process of cleaning the finds and how finds are identified and sorted.
Amongst the discoveries dating from about 1500 years ago were animal bones, pieces of pot and tile. The children were absolutely in awe of their finds, which were then taken by the archaeologists to be professionally recorded just as all other finds on the site have to be too. We then took part in field walking which is the process of collecting items of archaeological significance that have been moved to the surface of farmers' fields through modern ploughing techniques. The children were amazed at finding flint that had been worked to be used as tools as well as various pieces of pottery and tile.
As a school we are incredibly grateful to be offered this opportunity and there are future plans in place for the school to continue this work.
Mrs Karen Howard. Class Teacher at Rendlesham Primary School.
"It was great to see you last week and we wanted to say a huge thank you for helping to coordinate the trip for the Year 3 classes to visit the Rendlesham Revealed excavations. We really enjoyed working with all the children and they have made a genuine contribution to our internationally-important research project" Alice De Leo – Project Delivery Officer.
SOUTHWOLD
Working in the Community
In the last few weeks of the Summer term Key Stage 2 children worked closely with Cambridge Touring Productions on their summer performance. Rosie, who lives in Southwold and is from CTP, had written a version of 'Wind in the Willows', which she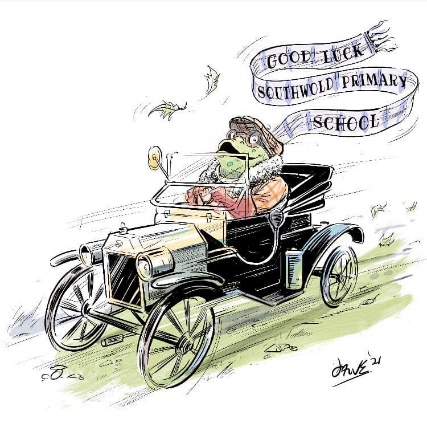 kindly adapted and let us use to rehearse and perform what was an outstanding performance, albeit sadly, not with a live audience as we battled with continued Covid disruptions. Whilst the children were ticking everything related to performing plays using tone, volume and intonation to convey meaning they also had first class tuition in learning to sing and using their voices from Nathan and Daisy Williamson whilst discovering the amazing music that accompanied the play.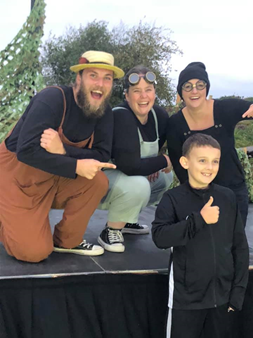 The school received a good luck message and special piece of artwork from artist David Shepherd who had illustrated the original play. CTP launched a competition for the children at our school for a lucky winner to attend their programmed performance of 'WITW' at Dunwich Heath during the summer holidays. Mason drew a beautiful illustration of Toad Hall and he and his family enjoyed the very funny performance and he even got to meet the actors afterwards.
Now to our youngest children…our Nursery and Reception Class, Astronauts, have been extremely happy to get back to school after the holidays and find that they have a whole new gym trail, providing them with a variety of physical challenges to develop balance, climbing confidence, upper and lower body strength, core stability, coordination and gross motor skills. This exciting new equipment was purchased through an amazing grant from the Adnams Community Trust after a successful bid to them.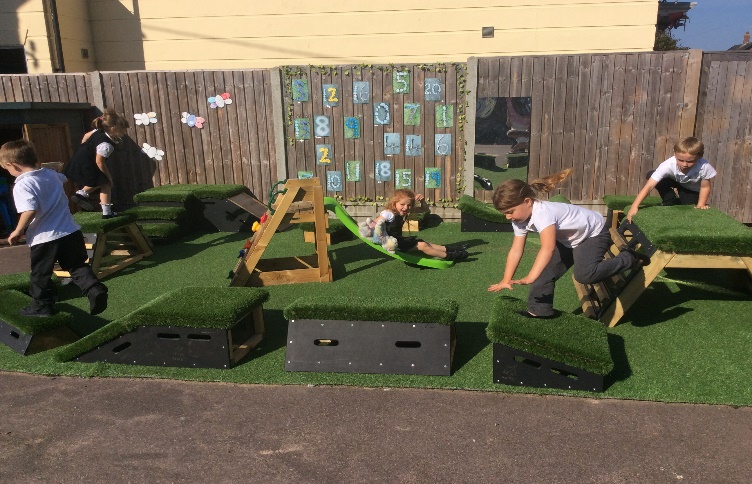 st edmund's
Oak class have hit the ground running since being back and are working super hard to improve their learning and understanding. In Maths our focus has been Place Value. We have been using lots of manipulatives to practice. In Literacy we have been really focusing on our phonics and handwriting. We do daily sessions for both and are now using a precursive font for our handwriting and trying our hardest to remember to also use the precursive letters we have practiced in our Literacy sessions. In Literacy we are learning the punctuation needed for a simple sentence and making sure our simple sentences make sense. In the afternoons our Human Kind creative curriculum to starting to pick up pace. In Geography, we have drawn table wide maps which have lots of different areas and symbols on. In Art we have created funny 3D faces to help us understand that sculpture isn't flat and are about to move onto comparing man made sculptures to natural sculptures. In music we will be representing Mr Men and Little Miss characters with different types of music and creating soundscapes for a range of characters.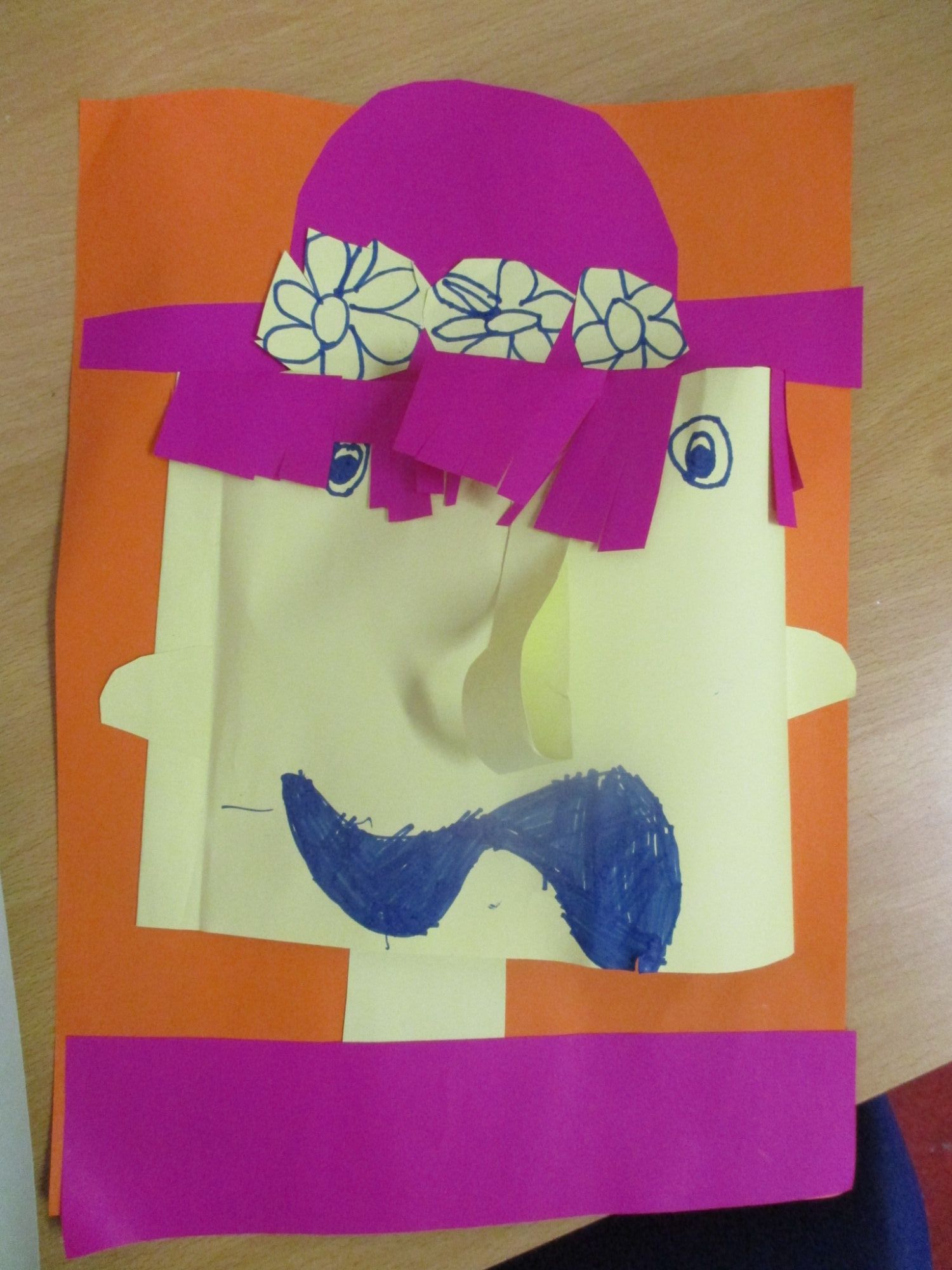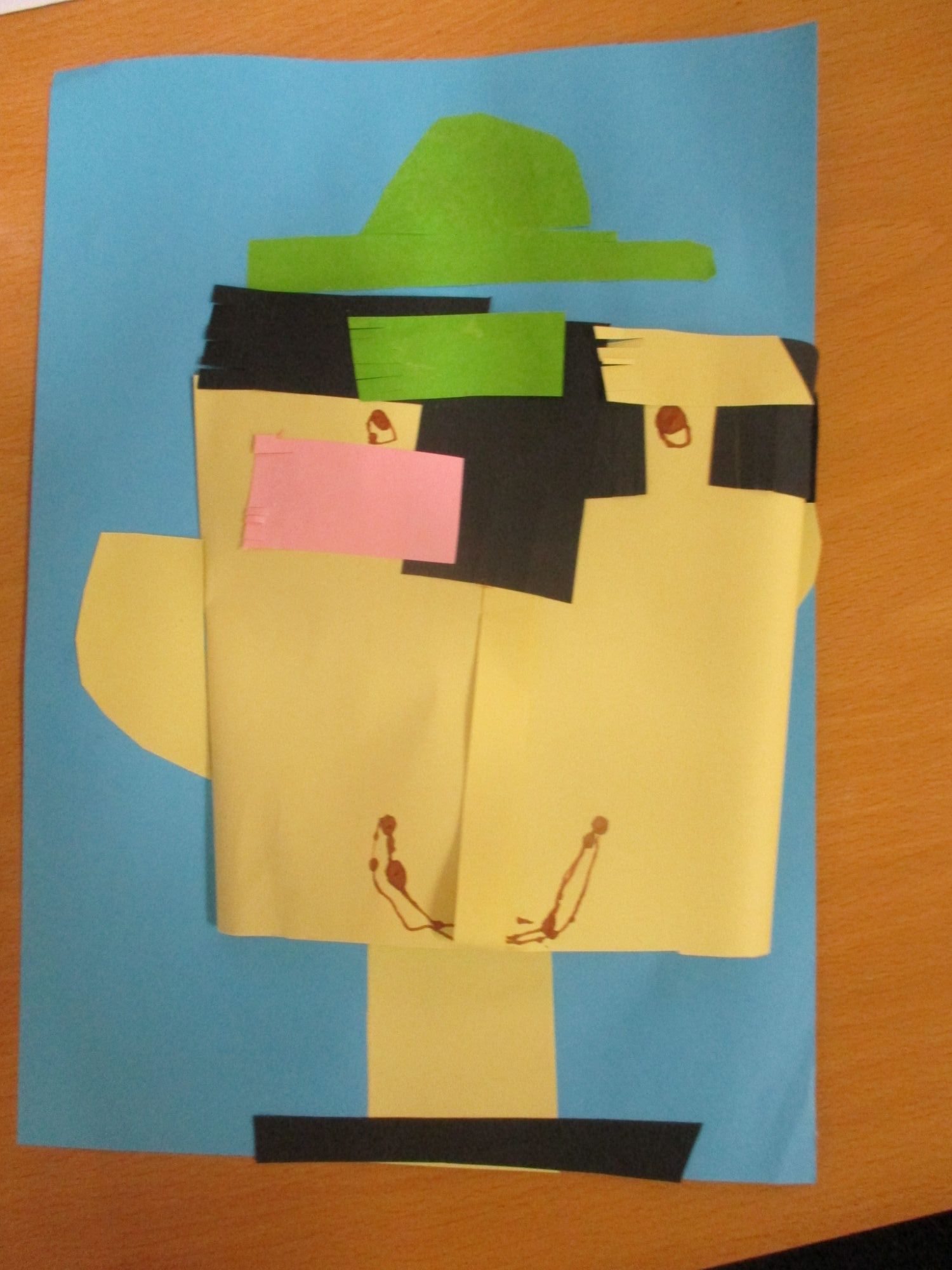 In Acorns, we are always busy learning in an interactive way outside and inside. This term we are celebrating a range of festivals including Harvest. We will also be planning visits within the local area to enhance our knowledge about our community.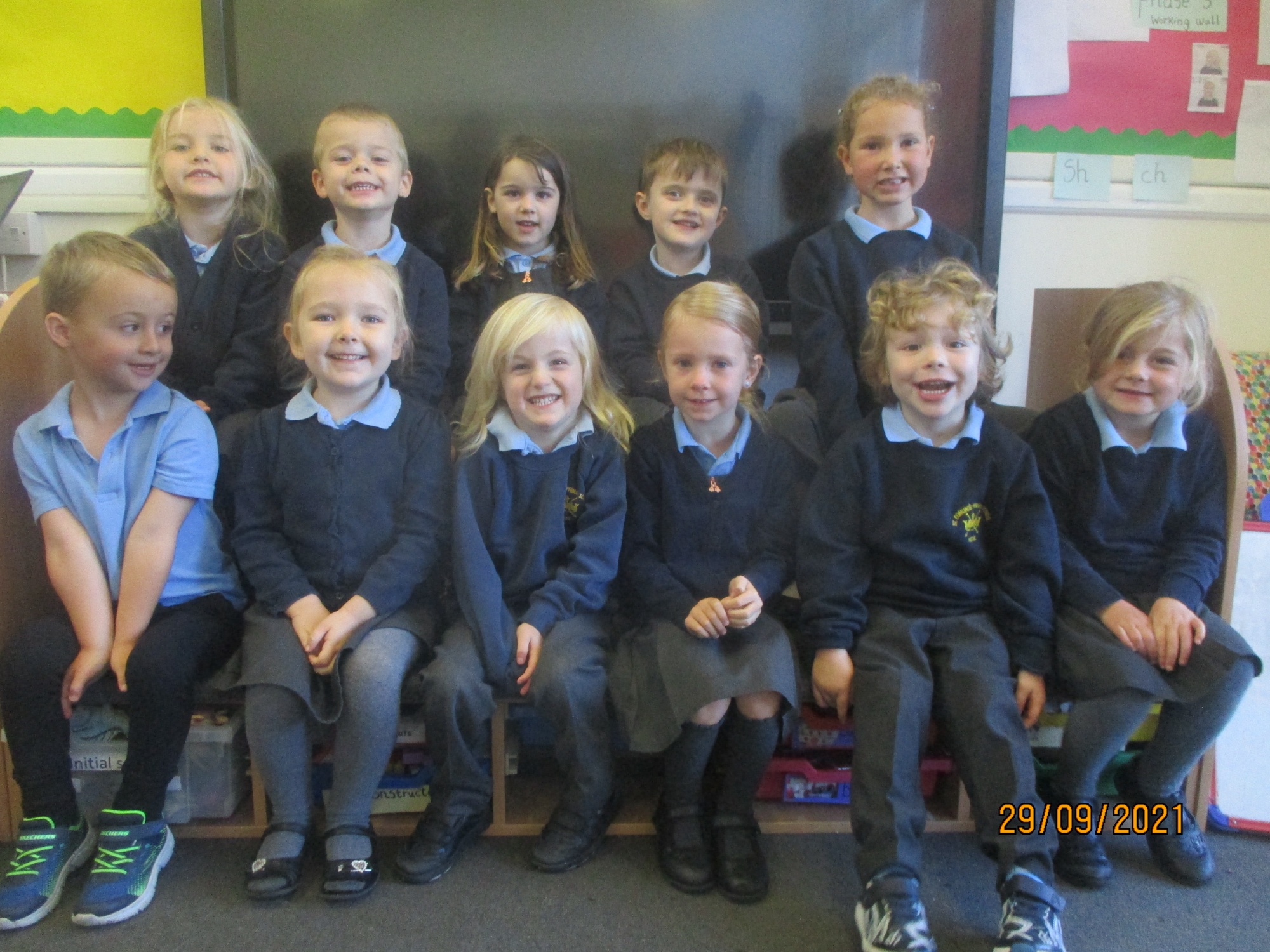 Rowan Class have settled in well to the new academic year. It is a busy class and the children have been writing formal letters to Miss Collins to apply for various positions within the school. They are now working towards a Slam Poetry Competition. In maths we have been recapping place value and the four functions and in art making human inspired sculptures.
The whole school has been taking part in the Virgin Mini-Marathon in their Active 15 - and we hope to complete the 2.6 miles by the end of the week.
As always, Beech class have been putting an enormous amount of effort into making progress with their learning. We have been particularly impressive with our abilities to discuss our individual ideas and build on each other's understanding. Taking turns to talk and finding ways to compromise is a huge skill, but we're able to "smash it" more often than not.
As outlined in our other newsletter at the beginning of the term our upcoming learning will be focussing on:
Place value, partitioning numbers, representing numbers and writing numbers as words in maths and will be moving on to estimating on a numberline, finding 10, 100 and 1000 more or less and eventually rounding up and down to the nearest 10/100/1000.
Myths and legends are our focus in literacy and we have been developing skills which will help us write our own versions eventually. The skills include being able to use adverbs and understanding where they can be placed in a sentence, recognising proper nouns and creating compound modifiers (back-breaking, jaw-dropping, wide-mouthed etc).
Topic has seen us being curious about early humans and practising being reflective when considering what makes us who we are. We shared our values, what the meanings of our names are and are beginning to research religions to better understand the role that they can play in a human's life.
Celebrating each other's successes is something that Beech class does best, and so we have created a "Hall of Fame" for:
People who received Star of the Week
People who have met the class target (to take pride in and present our learning well).
People who have shown the target learning characteristics (being collaborative, being curious, being good at giving and receiving feedback, being independent, being resilient and being resourceful).
Beech class members are trying hard to improve their handwriting so they can meet the class target (presenting learning well) and to receive a highly coveted pen license! The journey to handwriting supremacy can be a long and frustrating one but nothing worth le ever comes super easily and quickly. Joshua is working hard on a "Handwriting Mountain" which he's hoping will be used to encourage others to improve their handwriting. Practise resilience and practise your handwriting!
To have the best possible opportunities to meet all the requirements of the current year, you should practise instantly recalling times tables and division facts as much as possible and continue reading to and with others.
The rules continue to be "Ready, Respectful and Safe".
Library plea
We are currently in the process of revamping the library to make it a more comfortable and enjoyable place to be in. We want it to be a collaborative project so are asking for suggestions from all children, potential donations of soft seating from you and any amazing pieces of art relating to books (sculptures in particular).
winterton
Since returning to school at the beginning of September, Sharks have been focused on persuasive writing: their task has been to create a leaflet for visiting Dippy! In class, the children have worked hard to create cohesive and informative paragraphs about diplodocuses and write catchy, persuasive facts using imperative verbs. And after weeks of hard work, last week the children finally visited the incredible beast himself!
Sharks have been busy delving into travel guides and magazines searching for different colours, shades and textures for their new art topic of collage and photomontage. Here are the beautiful beginnings of some spectacular artwork!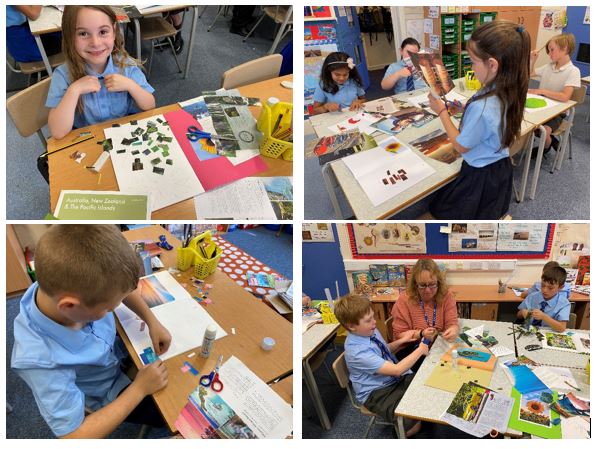 The whole of Winterton Primary school ventured to Norwich City in search of Dippy the Dinosaur and light entertainment from the Norwich Puppet Theatre.
Our Seal and Starfish classes began their adventure at Norwich Cathedral. In the Cloisters of the Cathedral our tour guide told us amazing facts about what type of Dinosaur Dippy was and how the bones were found. We were then taken through to the Nave where Dippy the Diplodocus stood at a whopping 26m long, head to tail. After this, we listened to a lovely story called Dinosaur Munch about a hungry Diplodocus who eats so much, they bite their own tail!
The next part of our adventure involved walking to the Norwich Puppet theatre which had some fantastic puppets hanging from the walls, all different shapes, sizes and creatures. Here the whole school ate lunch and after that, watched a spooky puppet show which told tales of Halloween ghosts and sneaky skeletons.
The children had a wonderful day and enjoyed a well-deserved relaxing coach ride back (with some sleepy heads).

YOXFORD & PEASENHALL
In computing, Willow class has been learning about sharing information and how far/fast information is shared. We have learnt about how routers work and how we request access to a video.
We then posted a picture on our school's Facebook page - https://www.facebook.com/Yoxford-and-Peasenhall-Primary-School-and-Nursery-100533348469310. As this information was sent to Horizons, it had 312 comments and 836 shares. Please help these numbers grow!
Children throughout school have been working with a music specialist as part of a community project. They have been practising different rhythms using different instruments in preparation for a drumming performance during the Phoenix Project showcase later this term. All the children demonstrated great listening and recall skills throughout their sessions.